Are You Asking All Your Customers for Feedback, or Just a Subset?
If you're like most businesses, you use multiple systems to track your customer contacts. You may have contacts in your accounting system, your CRM, marketing software, address books or other systems. When engaging your customers for feedback, make sure LoyaltyLoop is connected to all the systems you use to track customer contacts to ensure you are engaging all customers in the process. If you only engage a subset of your customer contacts, you could be missing critical insights and missing opportunities for more happy customers to promote you.
It is easier than ever to connect LoyaltyLoop to other systems where your customer contacts may reside. We offer an integration with Zapier, which is a third-party tool that allows you to connect over 1,000 different web apps to LoyaltyLoop so your customer contacts can flow easily and automatically to LoyaltyLoop.
Not only can Zapier integration allow customer contact data to automatically flow to your LoyaltyLoop account so those contacts can be engaged in your feedback loop, leads and referrals generated by LoyaltyLoop can flow back to your CRM, or marketing software, so you can follow-up on these opportunities just as you would any other opportunity.
Through our Zapier integration, you can connect LoyaltyLoop with hundreds of popular applications, from accounting packages, support and helpdesk systems, CRMs, marketing automation, e-commerce and more. For example, you can connect to:
The LoyaltyLoop integration is currently by invite only after you have created a Zapier account. Once your account has been created, click here to access our LoyaltyLoop Zapier integration or search for "LoyaltyLoop" in the Apps search to find and use our integration. Reach out to us for any assistance in setting up your integrations.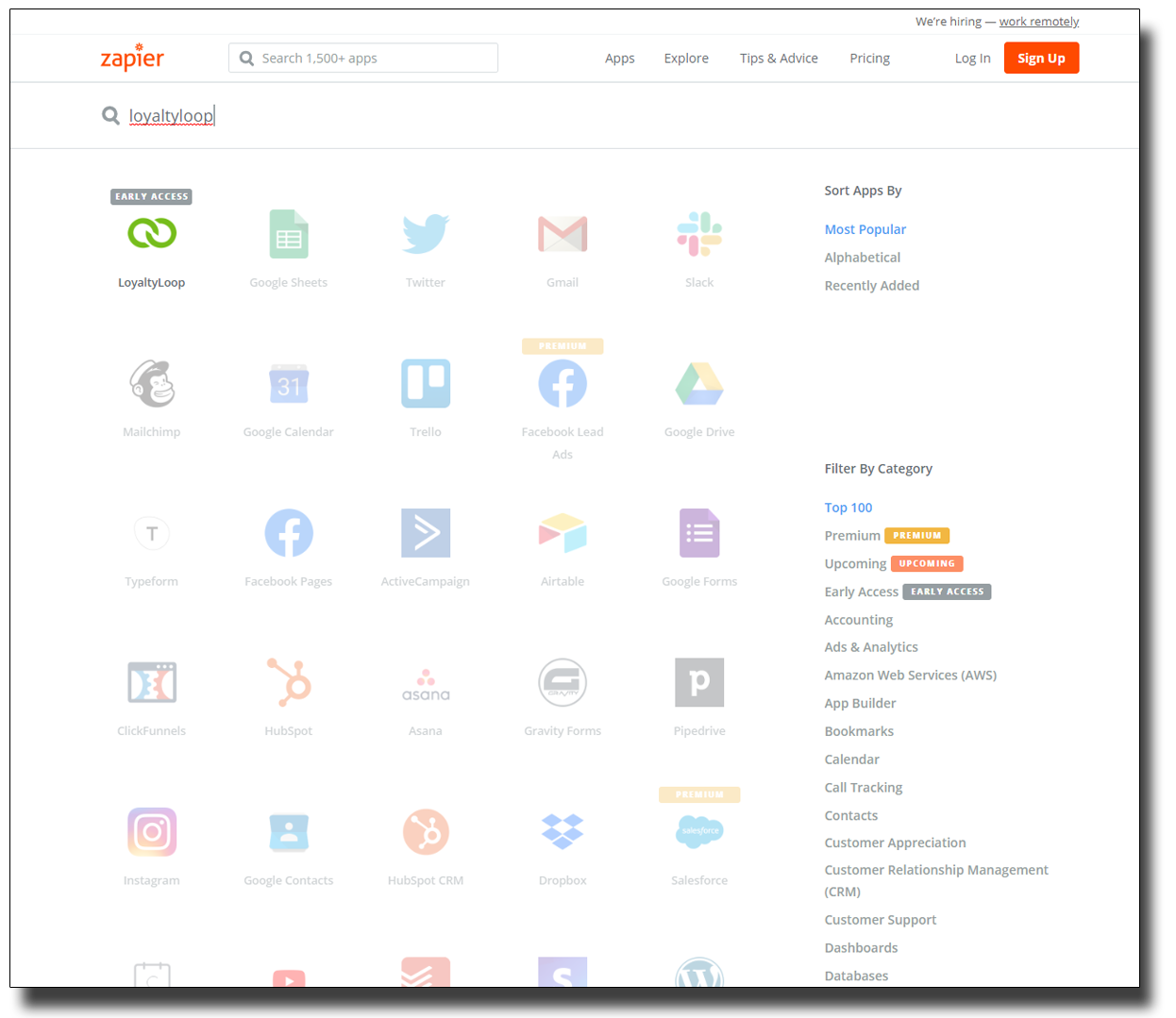 Effective Use of Your Net Promoter ScoreSM (NPS®) Metric
LoyaltyLoop gives you the ability to continually measure your customer satisfaction levels using the time-proven Net Promoter Score (NPS) metric. This standardized metric is utilized and engrained into the cultural fabric of companies across the world. There has been a lot of discussion about NPS in the news recently, and it is important to use this metric correctly in your business.
Since its conception by customer loyalty guru and business strategist Frederick F. Reichheld, the Net Promoter Score, or NPS, has become the most widely used metric for measuring customer satisfaction and loyalty. In Fred Reichheld and Rob Markey's book The Ultimate Question 2.0, they explain how companies across industry have integrated NPS into their fundamental business practices, to achieve impressive financial and competitive results. NPS is calculated based on your customers' response to the survey question "How likely is it you would recommend us to friends or colleagues?"
Coined as the "ultimate question", this question was shorthanded from "Have we treated you right, in a manner that is worthy of your loyalty?" (Reichheld, 2006, p. 9). It was determined through compelling research, that this phrase had yielded a reliable score, with a consistent correlation to customer loyalty and satisfaction. Based off this philosophy, NPS delivers value and insight into our customers' business.
The NPS metric gives you a consistent way to measure and compare your company's customer satisfaction. Having a consistent and commonly used measuring tool like NPS is critical to your use of the metric. Imagine if everyone used a different scale that measured the distance between two places – those measurements would become largely useless to anyone other than the measurer. Using the NPS metric, which presents customer satisfaction on a scale from -100 to +100; the higher your NPS, the higher your customer satisfaction and anticipated loyalty. With an increase in loyal customers, businesses will likely find increased repeat business, longer relationships with customers, higher retention rates and the willingness of customers to promote you organically (i.e. word of mouth referrals, online reviews, etc.). "The only path to profitable growth may lie in a company's ability to get its loyal customers to become, in effect, its marketing department" (Reichheld 2003). In summary, Reichheld believes your loyal customers should be an organic extension of your marketing.
The NPS metric is just one part of the picture to understanding your customers attitudes. You should not hang your proverbial hat on just the NPS metric. In addition to using the quantitative metric of NPS, you should look deeply at the qualitative details that drove your customers to rate you the way they did on the NPS question. This qualitative data lives in the comments your customers provide in their survey response and in most cases will illuminate the why a customer responded to the NPS question as they did. The details, insights and trends that you'll find in the qualitative data is as important as the NPS metric itself. It's wonderful to know your NPS moved from 50 to 62 but understanding why it moved is more important. It is from that learning that will allow you to make meaningful changes to your business that drive stronger customer satisfaction and loyalty. To read how we measure NPS in your survey, please check out our February block post.
Reichheld, Frederick F. "The One Number You Need to Grow." Harvard Business Review. Dec. 2003. Harvard Business School Press. 14 May 2019 .
Benefits of a Simple Referral Program
Do you currently offer your customers the opportunity to be rewarded when they make referrals to your business? If not, why not? When you create happy loyal customers, they will likely talk up your business to others and boast about why they love working with you. We all do it. Sometimes, we as customers, wittingly or unwittingly, become an extension of a company's marketing and sales department. We wear their brands on our bodies, put stickers on our cars and laptops, and advocate their products to our friends. This consumer behavior works for large and small companies alike. So, what are you doing to ensure you're helping your loyal companies advocate for your business?
One simple way to do this is to implement a referral program. The referral program aims to enlist your best customers, who are already inclined to talk you up, to proactively refer other customers to you. You will want to market your referral program in all your marketing channels, and your customer feedback loop like LoyaltyLoop.
Every business is different, hence, there is no one-size-fits-all referral program. You need to ask yourself, "what is the value of warm lead?". Your referral program could provide an appropriate reward to your customer when they make a referral. For example, you might offer a $20 Visa gift card to any customer who refers a new customer who places an order for $100 or more. For other businesses, you might be willing to pay $20 for every referral regardless if the business converts to a sale or not. If you're a local merchant catering to a local clientele, perhaps you offer a gift card to that new local restaurant everyone is raving about to make an even greater impression on your happy referring customer. Use your imagination, be relevant, and make it fun for your happy customers to participate.
Whatever you decide is the right referral program for you, market it wherever you message your customers: Put it in email footers, make signs for your store, and/or put it in newsletters. Also, add it to your feedback loop. LoyaltyLoop Promoter Plan can be configured to promote your referral program to your surveyed customers. Drop us an email or give us a call to share with us your referral program so we can update your LoyaltyLoop service with it. Our support team can be reached at support@loyaltyloop.com or by calling us directly to assist you with this change.
Finally, remember that your referral program is about creating an additional connection and bond with your happy customers. The simple act of sending hand-written 'thank you' cards to customers who give feedback, testimonials, or referrals, can make you stand out from the crowd while making your customer feel special. LoyaltyLoop arms you with the information you need to decide if and how to further engage your customers to form tighter bonds that develop stronger loyalties.
Maintain an Active Presence on Social Media
Are you actively engaged on your business social media outlets? If not, it may behoove you to consider increasing your daily social media activity. Maintaining a consistent social media presence can be a direct, inexpensive and highly effective way to increase engagement with both customers and prospective clients looking to do business with you. Whether its publishing fresh customer testimonials, sharing business acumen to become a thought leader in your industry, or simply responding to customer comments, your engagement helps to drive your brand awareness. According to the Pew Research Center, most social media users are actively logging into their accounts at least once per day, so your social media pages should be an extension of your customer communication efforts.
As a good rule of thumb, its recommended to log in and monitor your social media pages daily and post relevant and fresh content to your followers. Publish educational announcements regarding new products/services, promotional offers, post testimonials from your LoyaltyLoop dashboard and respond to customers who are posting on your pages. Taking the time to engage in dialogue with these customers, highlights your willingness to listen and respond to prospective clients shopping for a new business partner. Additionally, sharing content from your blog or newsletter source on social media is a great way to drive increased website traffic as well. In summary, make sure to keep your social media communications both entertaining and informative for your followers. Providing this type of engaging content will keep you fresh in the minds of your followers and prospects alike. If you would like to have a refresher on publishing testimonials on your social media pages from LoyaltyLoop, check out our December newsletter or watch the support videos in your dashboard's Help page.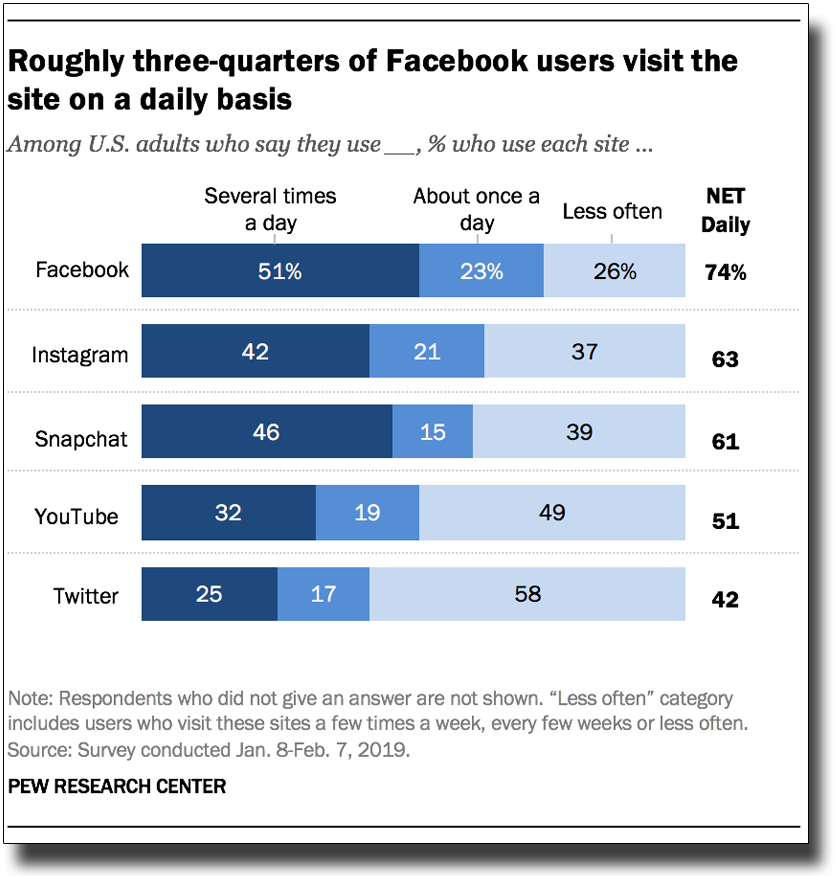 Your LoyaltyLoop Satisfaction Thermometer
When logging into your LoyaltyLoop dashboard, front and center, is your customer satisfaction trending table. Above this chart, is your customer satisfaction thermometer, which provides you with an all-time summary of the most recent customer responses to your NPS question. This "thermometer" only accounts for the most recent survey response from each customer, rather than every respondent's historical survey answer to this question. This subset of data is a current "temperature'" if you will, of your current customers' satisfaction and loyalty. After each survey launch, you will notice this point of reference fluctuate to account for new customer responses. Use these changes to drive customer outreach efforts when you notice your thermometer trending negatively.