Join the Affiliate Program and Earn Recurring Profit!
Would you like to build a new recurring profit stream with ease?Would you like to offer the benefits of SurveyAdvantage's LoyaltyLoop services to your customers, without any of the overhead of maintaining and supporting the customers? SurveyAdvantage's new Affiliate Program will help you do just that! Join the Affiliate Program today and start building your recurring profit!
New Charting Options

When viewing your Feedback by Question section of LoyaltyLoop, you now have the options to chart your questions as a time series or as a simple bar chart. To change the chart mode, simply click the chart button above the chart (shown to the left).
Get Notified When Google Reviews Are Posted
Make sure you have your Google account set to notify you when a customer posts a review to your Google My Business page. Google reviews are public, and it is a good practice to reply with a thank you message to your customers who take the time to post a review on Google. Here are some tips from Google regarding to respond to online reviews. But before you can reply to these loyal customers, you need to know when they post a review. Sign in to the Google account you use to manage your Google My Business page, and follow these simple steps:
Click the 9-dots in the upper right corner of your account
Click the My Business icon
From your My Business page (sample shown below), Click Settings from the main menu on the left
Under Customer Reviews, make sure the checkbox is checked
Optionally, if you want to confirm the email address to where Google will send these notices, or to update it, click "Preferred Email"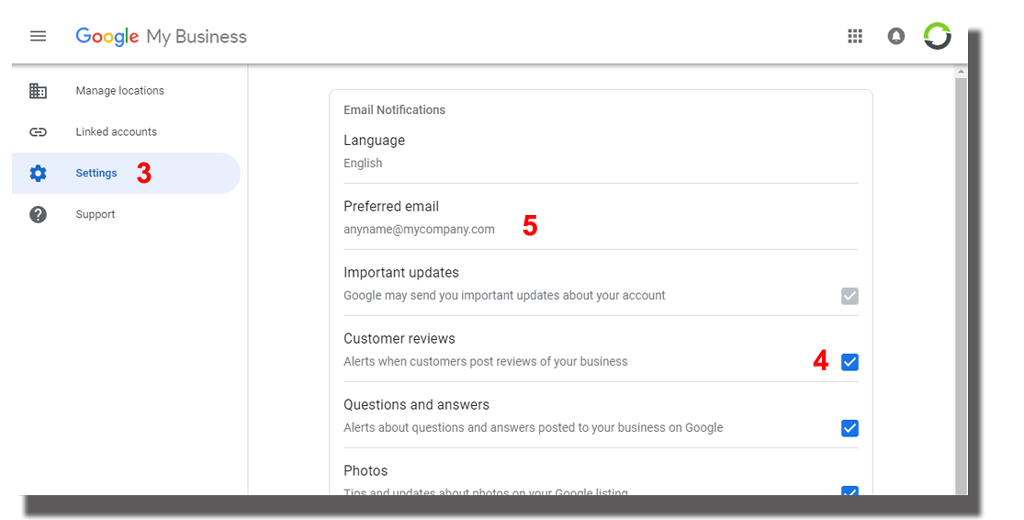 How To Update Your LoyaltyLoop Settings?
From time to time you may need to make adjustments to your LoyaltyLoop settings such as the wording of your survey invitation emails, or which review sites to present to your customers. As always, you can email or call us with any changes you need and our team will be happy to take care of them for you. However, sometimes you may find it more convenient to make simple edits on your own.
To make changes to your LoyaltyLoop settings, sign in then click your Username then click Settings. The Settings page provides access to various details about your service configuration, including your personal details, your company details, your signature file used in your survey invitation emails and other follow-up emails, your survey invitation and follow-up emails, 'thank you' pages, review sites, and more.
Go ahead and explore your Settings pages. Give us a ring and we'll be happy to show you how easy it is to update your settings if you choose.
LoyaltyLoop "How-To" Videos
Did you know LoyaltyLoop is full of helpful, instructional videos? These videos have been designed to answer questions regarding how to do something specific within LoyaltyLoop, and as such we've kept them short and right to the point.
These videos can be found throughout LoyaltyLoop indicated by the blue question mark

, and on the Support page accessed by clicking your Username, then click Support. If you don't see a video that you think would be helpful, please feel free to drop us a note with your suggestions.
LoyaltyLoop Compatible Browsers
While we try to support the latest browsers, here is the current list of supported browsers for using LoyaltyLoop.
Chrome, version 59 and higher
Firefox, version 52 and higher
Safari, version 10.1 and higher
Edge, version 17 and higher
Opera, version 45 and higher