NEW FEATURE: Enhanced Poor Survey Alerts
LoyaltyLoop now offers greater poor survey alert configuration. In the past you could trigger a Poor Survey Alert on your customer satisfaction survey question (i.e. How likely are you to recommend us to a friend of colleague?). Now, you can also trigger a Poor Survey Alert on your product quality and customer service survey questions. You can also increase the sensitivity by including passive customers (those answering with a neutral response) in addition to your detractor customers (those answering with a negative response).
By default, poor survey alerts are configured to fire when negative feedback is given to the customer satisfaction (Net Promoter ScoreSM) survey question. To enable Poor Survey Alerts for your product quality and customer service questions, or to trigger for both passive and detractor customers, you can either a) instruct our Support Team to enable them for you, or you can set this yourself. To set these options yourself, follow these steps: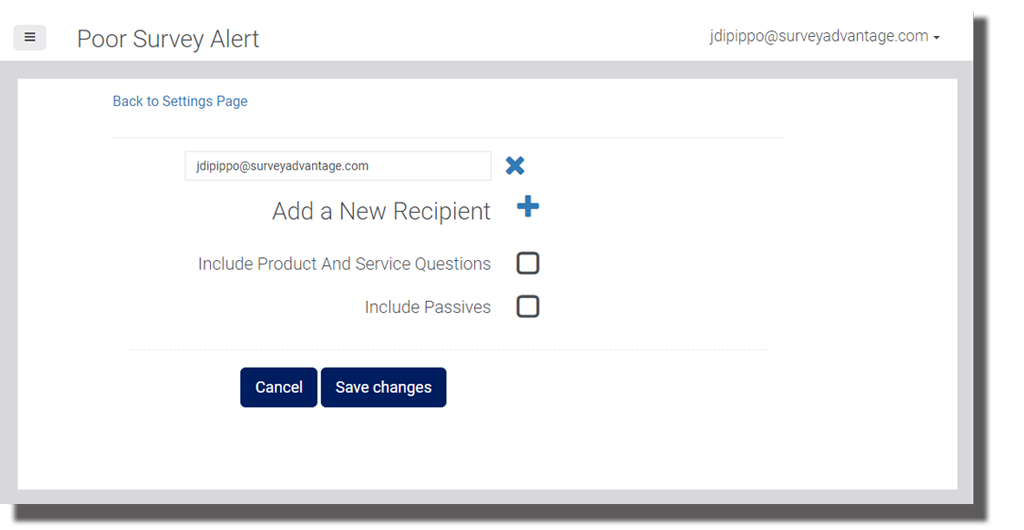 Steps to follow
Sign in to LoyaltyLoop and click your username to access the Settings menu;
Sign in to LoyaltyLoop and click your username to access the Settings menu;
Click Alerts & Notifications;
Click the pencil to edit your Poor Survey Alert;
Check the boxes that say "Include Product and Service Questions" and/or "Include Passives"
The system will still generate one poor survey alert if the customer answers negatively (or neutral to negative) on any of the three questions.
Lastly, and as a reminder...if you only have one person set to receive your Poor Survey Alerts, consider adding a second recipient as a back-up for when you're away on vacation or travel. This person should be instructed on how to follow-up and address poor customer feedback. Don't let an angry customer stew while you're away. Add a back-up contact so you can manage this customer's experience even if you're away.
View Survey Responses Right From Your Opportunities Screen
Leveraging your recent lead and referral data quickly can make the difference between winning and losing new business. Did you know you can view your customer's complete survey response from the Opportunities section of your dashboard? When viewing a lead or referral, you can easily view your customer's full survey response, all pre-populated data, survey comments, satisfaction responses and Net Promoter Score (NPS®) rating. Use this data to execute follow-up campaigns faster and more effectively.
When viewing your opportunities page, simply select the Survey Response tab on the top right side of your screen to display either referrals or leads. In the right panel showing the Opportunity details, notice the blue button titles Survey Response. Clicking this button will expand the section displaying the current response this customer provided when they also expressed interest in buying other items from you.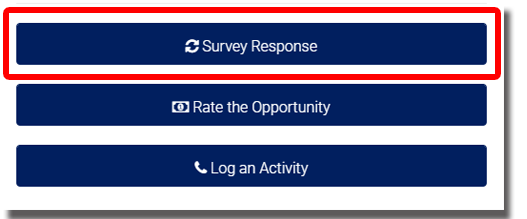 Referral Question Suggestion
If your survey was set up before August 2018, and your have the referral question active, you may be interested in this suggestion. The original wording of the referral question asked for your customer's name and email in addition to asking them for their referral's name and contact info. We noticed that this causes 'false referrals', where your customers think they are being asked to provide their name regardless if they provide a referral. All new services set up after August 2018 no longer include the "Your Name and Email" field in the survey. If you service was set up prior to August 2018 and would like us to update your survey to reflect this change, simply email us at support@loyaltyloop.com.
Facebook Update: Reviews are now Recommendations
In the last month or so you may have noticed Facebook reviews look different. Facebook has announced that what they had previously called "reviews" will now be called "recommendations". And while the previous reviews allowed customers to select a rating of 1 to 5 stars when recommending for your business, now Facebook only allows a binary choice of "Yes" or "No" (see the screen shot below of how our page now appears).
To compliment this Yes/No recommendation, customers can tag your business with attributes and images that Facebook says will allow other customers to see themes emerge about your business. For the time being it appears Facebook will continue to keep the historical 5-star values and reviews, however they've removed the ability to view reviews (now recommendations) by the star-rating. Other than the change in approach, this change does not negatively affect LoyaltyLoop Promoter plan subscribers who are currently encouraging reviews on Facebook.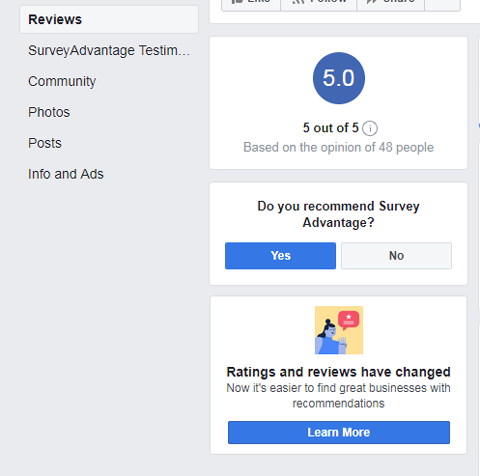 How To Add/Manage Users
Sharing customer feedback with your team can help drive improvement goals, strengthen internal communication and boost company morale. Any LoyaltyLoop Admin User can add/manage other User's access to your account. You can add your sales reps, employees, or any other colleague to have access to your LoyaltyLoop results. Watch this short instructional video (which can also be found in your Support page in LoyaltyLoop), or follow these simple steps.
Steps to follow
Sign in to LoyaltyLoop, click your Username and then Settings
Under the Admin section, select User Settings
Select the plus sign to add additional users.
Input the user;s information and choose their role(admin/standard user).
Upon saving changes to the new user information, an invitation to create login credentials will be sent to that user's email address. Inversely, users can always be deleted by admin users to prevent access moving forward.
Variable Data Tag Sensitivity in Follow Up Campaigns
When leveraging your LoyaltyLoop email templates to execute follow up campaigns, you'll likely want to use "Variable Data Tags" to make your emails more personal and relevant. Variable Data Tags relate to specific data fields you provide to us with your launch file, referred to as pre-populated data.
Variable Data Tags can be used to automatically insert a customer's first name, last name, company name, if this data is provided by you in your data file. Additionally, if you're a subscriber to the Promoter plan, a Variable Data Tag for your social media review pages can be used. To insert a Variable Data Tag, place your cursor where you want it to appear in the body of the email and click the + button to drop-down the list of Tags. Then, simply choose the appropriate Tag to insert it. Preview your Campaign to ensure the Variable Data Tag is inserting the values where you want them.

Are You Still Trying To Use Old CustomerPulse Report Links?
In the past, the old CustomerPulse report links could be saved or bookmarked in your browser for access at any time. While this may have been convenient, it was far less secure than the new LoyaltyLoop User-based service which requires you to login to access your customer results. If your account has been migrated to LoyaltyLoop, the old report links no longer provide access and we suggest deleting these bookmarks.
In order to access your results, simply sign in to your LoyaltyLoop account by clicking the green Login button in the top right corner of our website. When viewing LoyaltyLoop email alerts (e.g. poor survey alert, new response alert, weekly summary email) you can click on the results shown in those emails to access LoyaltyLoop.
How To Download Feedback by Question as a CSV file
When you want to manipulate your survey results directly in a spreadsheet, you'll first need to download the raw data. Go to your Feedback by Question page, find the question you wish to download the results, and click on the CSV download button in the top right corner. Save the file to a known location. You can then open the CSV file using any popular spreadsheet program like Microsoft Excel to manipulate the data, or create your own custom reports and charts.

LoyaltyLoop How-To Videos
Last month, we added some instructional How-To videos appearing on the various pages throughout LoyaltyLoop. Click the blue question mark

inside LoyaltyLoop to play the video. All videos have been designed to answer questions regarding how to do something specific within the new LoyaltyLoop interface. We've kept them short and sweet and right to the point. If you don't see a video that you think would be helpful to you and others, please feel free to drop us a note with your suggestions.