New Feature: Multimedia Testimonials
Publishing your customer testimonials on your website using our Testimonial Publisher Widget (or our API) is a great way to tell your story to prospects. Your customer comments can be powerful in motivating others to consider your business too. But what about the old phrase 'a picture is worth a thousand words'? Have you ever wished customers could include images with their survey responses? Well, as of this month, we are releasing our multimedia testimonial feature for LoyaltyLoop Promoter Plan users.
This feature will allow your customers to upload up to 2 images with their survey response. Publishing testimonials to your website will work just as before. However, you'll notice a new column titled Media in the Testimonial section. If photos are attached to the testimonial, you'll see one or two icons under the Media column indicating photos are part of the testimonial. Hover over the icon to get a preview of the image.
When publishing testimonials to your website, by default, all images will be published along with the comment. To control which photos get published, click the Edit (pencil) icon under the Action column. You'll see the full comment and any images. If you do not want an image to show in the testimonial, simply flip the "Show Image" switch from Yes to No. The icon in the Media column will be grayed-out to indicate it is not attached to your testimonial.
You can also preview your testimonials before they are published ot your website. Using the preview feature is a great way to ensure you have selected the correct image or images to include in your published testimonial.
Adding this feature to your Promoter Plan service has no additional cost. However, your survey must be updated to the new mobile-optimized theme so that your customers can use their phones to take pictures and upload them in your survey. We also need to update the wording of your survey question that asks if you have permission to use the customer's comments (and now images).
If you use our Testimonial Publisher Widget with your website, multimedia testimonials can be published to your site as soon as your survey has been updated. If you use our API to collect and publish testimonials, please refer to our LoyaltyLoop API documentation, or our support team, for help in updating your testimonial publisher implementation.
(1) To use the new multimedia testimonial feature, we must first update your survey to the mobile-friendly template so customers can capture images from their mobile device and upload them to your survey response, as well as update the language of the permissions question.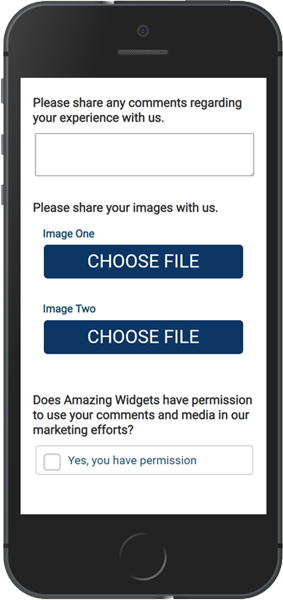 (2) In your Testimonial Publisher view, the icon under the Media column indicates if a photo is attached to the testimonial. Shaded, or grayed-out icons indicate a photo was included with the survey response, but you have deselected it so it does not appear when publishing the testimonial on your website.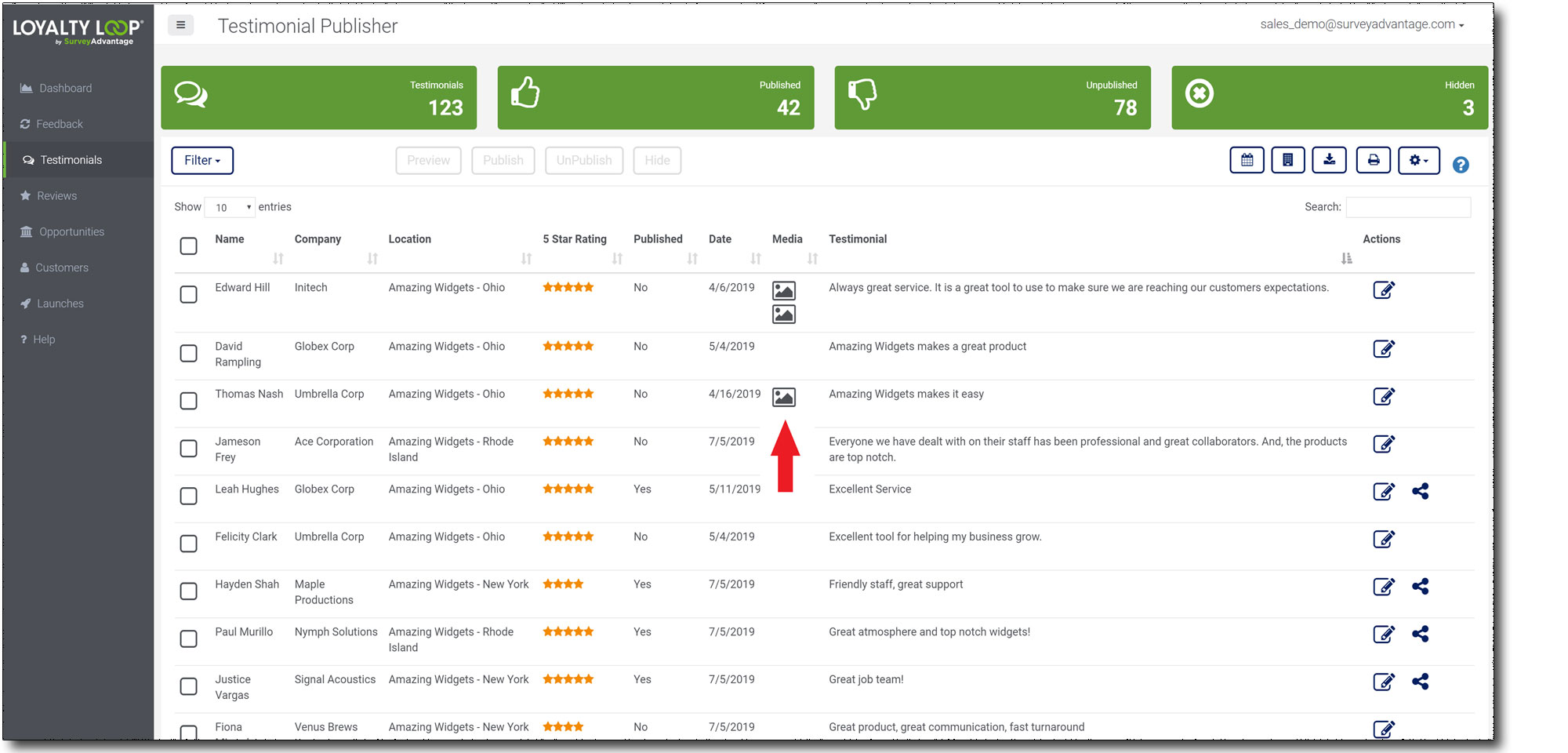 (3) Clicking the Edit button under the Action column allows you to edit the testimonial, and choose which (if any) images to show when the testimonial is published to your website.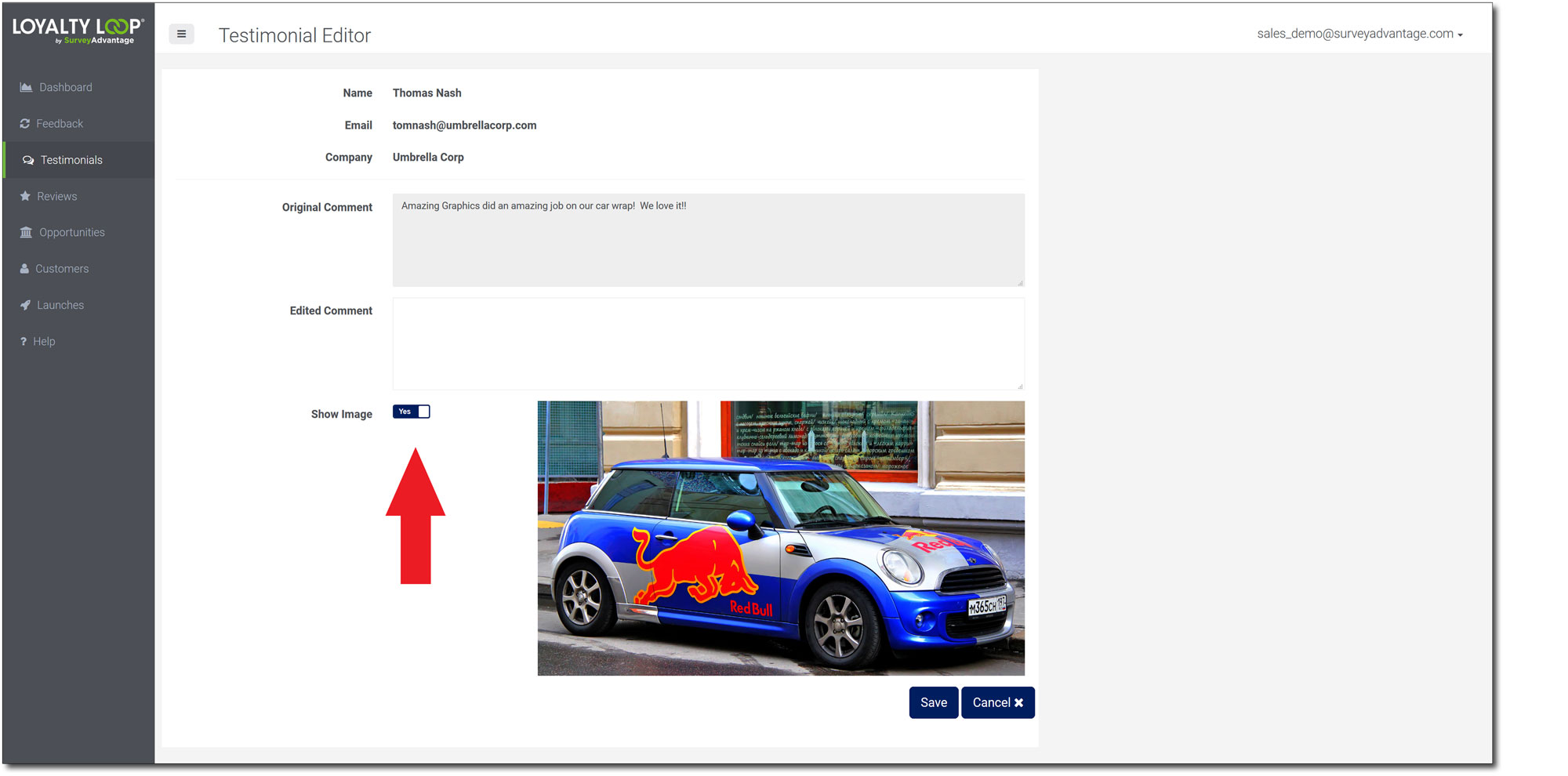 (4) Click the checkbox button next to the testimonial(s) you wish to preview, then click the Preview button. This will show you exactly how your testimonial will appear on your website.
If you would like to have this feature enabled click the button below, or reach out to our support team directly at support@loyaltyloop.com (or 401-560-0311 option 3).
Understanding your LoyaltyLoop Launches page
Did you know all historical launch data can be found in your LoyaltyLoop account? Let's look at the Launches section to learn more. Once you are logged in to LoyaltyLoop, choose the Launches tab from the left main navigation menu.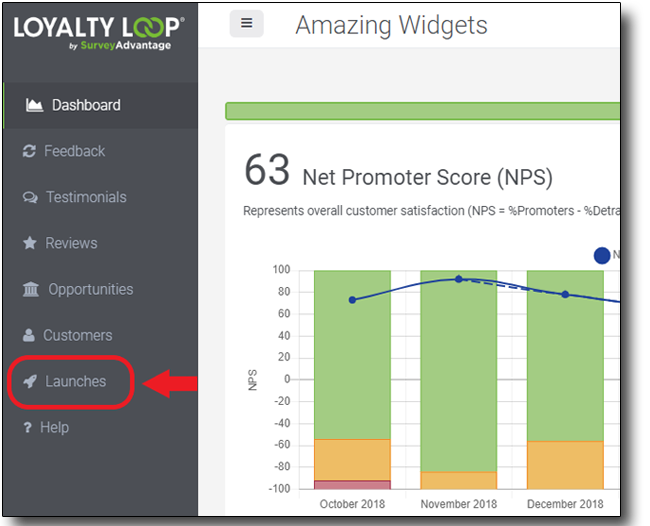 You will land on the Response Rates tab of your Launches section. From this page you can see your response rates, track previous launches, view previous launch lists to see who was sent your survey, and all other historical launch data. Let's look at each item.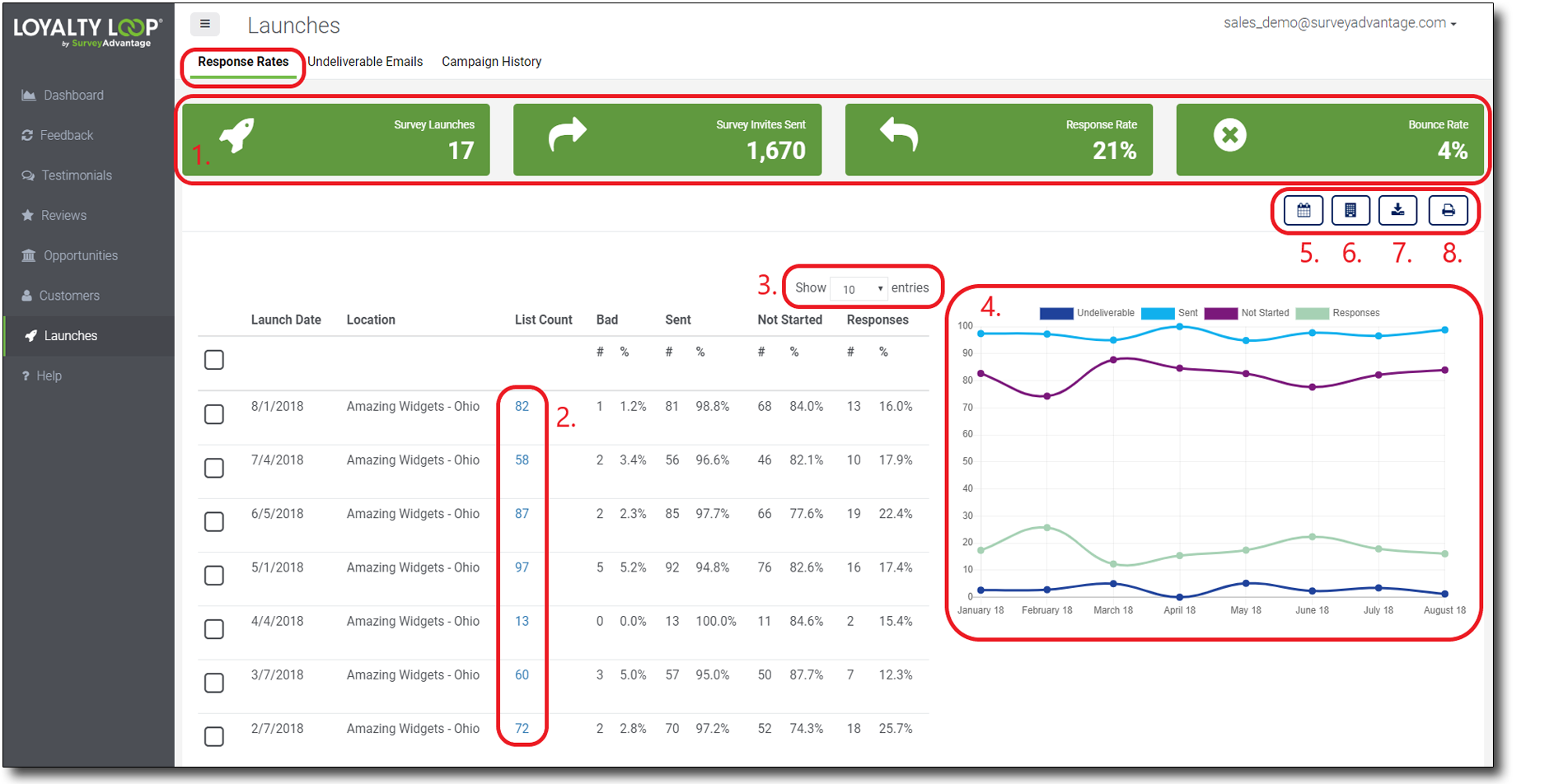 1. Summary Data Widgets These green widgets provide you with all-time launch data. Hover over a widget to see a description of the widget. The Response Rates page shows widgets for number of surveys launched, total survey invitations sent, cumulative response and email bounce rates.
2. List Count Click any count value to display the list of customers who were invited to give you feedback in that specific launch. It is important to note, these recipient lists represent your final post-processed list of customers to-be surveyed.
3. Entry Display Set how many rows to display on your screen.
4. Survey Launch Graph Displays launch trends for all key launch metrics including undeliverable emails, invitations sent/not started, response rate, and the average response rate for your industry (if available). Click the legend item to hide the element from the chart. Click the legend item again to have it displayed on the chart.
5. Date Picker The date picker calendar icon can be found on almost every page in LoyaltyLoop. Click this icon to change the date range of the results you're viewing. You can pick from several predefined date ranges or set a custom range.
6. Location Picker If you operate multiple locations, use the location picker tool to select which location(s) results you wish to view. LoyaltyLoop will present the aggregated results for your chosen locations.
7. Export Button Select one or more rows in a table and click the Export button to download your results in a CSV (Comma Separated Values) file for use in Excel and other spreadsheet programs. Click the 'select all' checkbox at the top left of the table if you wish to export all launch data for the selected locations and date range.
8. Print Selection To print the table, select one or more rows and click the Print button.
The next page in your Launches section we will look at is your Undeliverable Emails page. Under the Reason column, you can see why an email was not able to be delivered to your customer. If you have bad email addresses, make certain to fix them in your source system. You can print out this list, or export it to a CSV file. Simply click the checkbox next to the row(s) you wish to print/export, or click the select all checkbox to print/export all rows.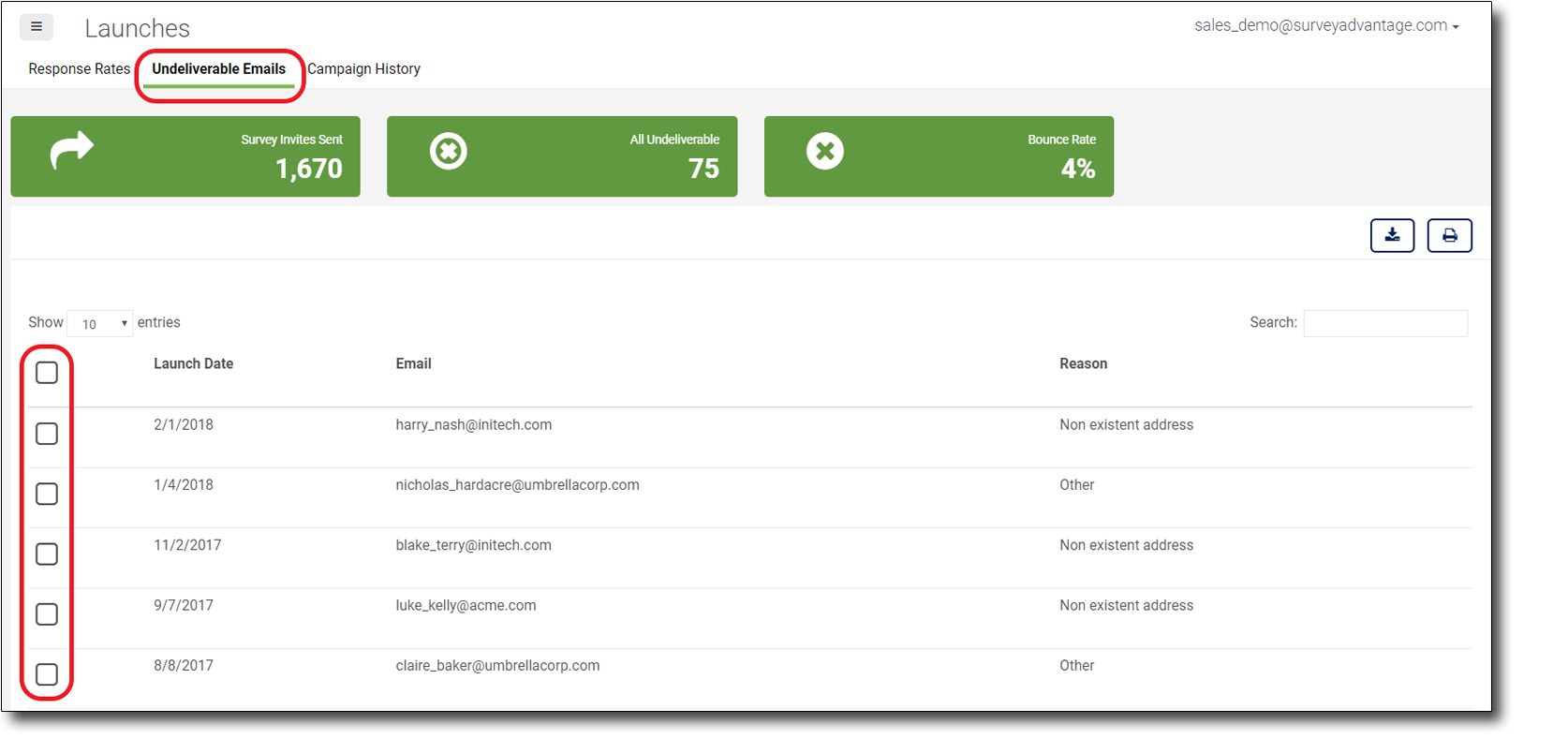 Lastly, your Campaign History section under Launches will track all previous follow-up campaigns and reminders sent. Follow-up campaigns include emails sent from LoyaltyLoop to leads in your Opportunities section or to recent respondents in your Feedback section. In addition, campaigns include any reminder emails (e.g., the 7-day survey reminder, and the 48-hour social media follow up reminder).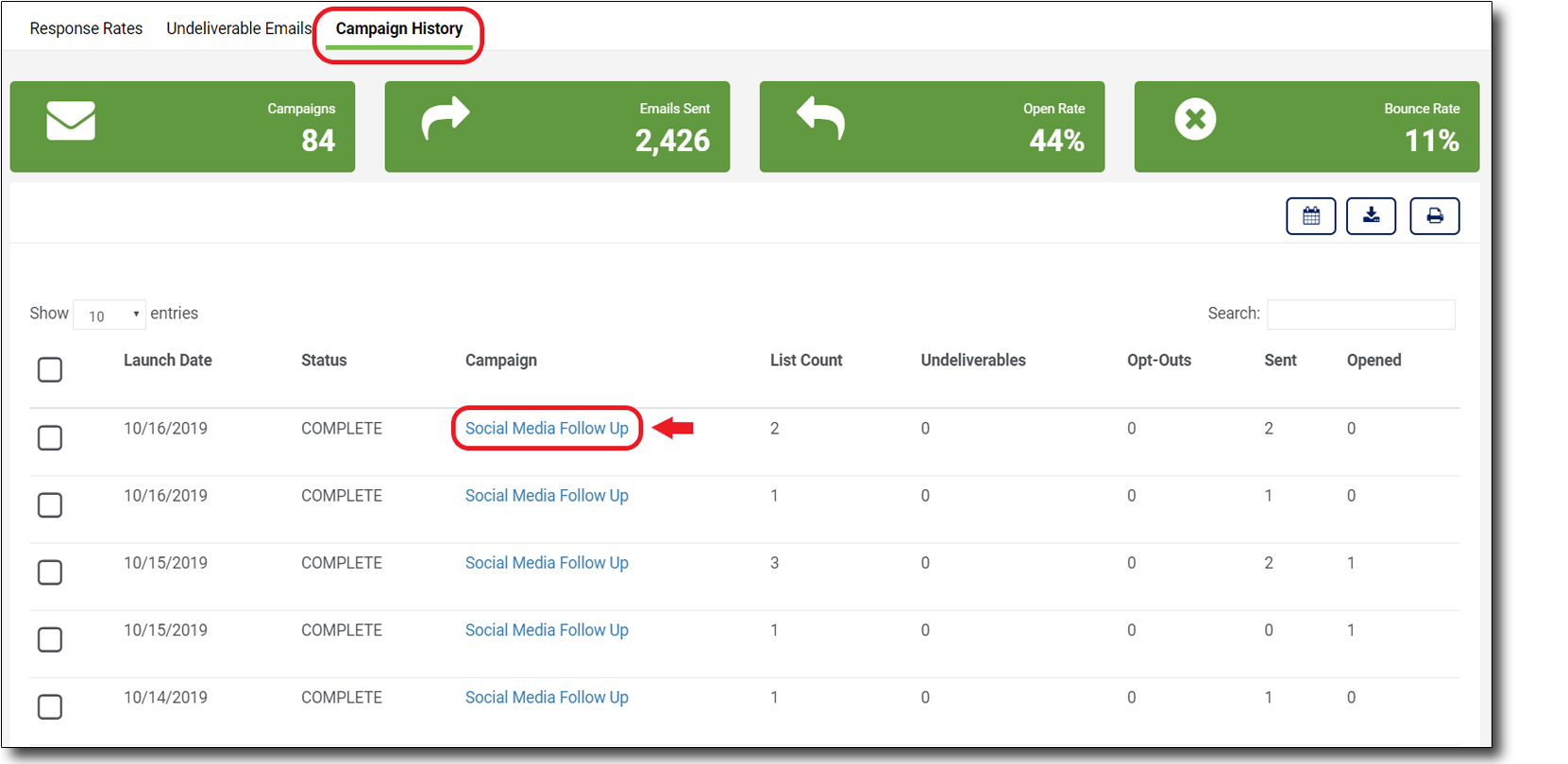 Maintain your Sales Expansion question
Have you ever had a customer who was delighted to be working with your company, then you find out they did not realize you offered a product or service they also need, and they wound up buying from your competition? This can be disappointing to say the least. This is particularly frustrating since we also know that happy customers are more likely to give you more share of their business.
Customers may not be aware the full range of products and services you offer. LoyaltyLoop Promoter Plan helps you expose your products and services to your happy customers via our Sales Expansion question. The Sales Expansion question presents a listing of other products and services you offer to your happy customers so you automatically soft-sell and cross-promote your services to happy customers.
When customers select an item in the Sales Expansion question, LoyaltyLoop Promoter Plan presents these as Opportunities in the system, and you can run follow-up campaigns from within LoyaltyLoop or export the leads for use in your CRM or marketing automation tools. This powerful feature creates the opportunity for you to do more business with an already-happy customer.
Invariably, the products and services you offer customers can change over time. So, if your survey includes the Sales Expansion question, it is important to check it quarterly (or as frequently as needed) to ensure it lists the correct product offerings. Use the direct survey link in your Quality Control (QC) invitation emails to view your survey and determine if an update is needed. See a change that's needed? Simply email our support team the change you would like made and we'll take care of it for you.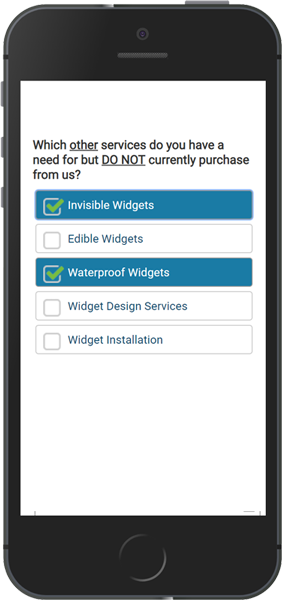 This month we are including the first of nine parts of a new white paper we have written that discusses the concepts and value of building your own customer loyalty loop.
"So, you wanna start a business. How do you start? What do you need? Well, first of all, you need a building. And secondly, you need supply. You need something to sell. Now this could be anything. It could be... a... thingamajig. Or a.... whosi-whatsi. Or... [pulls out a candy bar] a Whatchamacallit [throws bar]. Now, you need to sell those in order to have a PayDay [takes out a PayDay, throws it]. And, if you sell enough of them, you will make a 100 Grand [throws 100 Grand bar]. [pulls out a Snickers] Satisfied?"

Michael Scott, Regioal Manager
Scranton Branch, Dunder Mifflin Paper Co. 1
What makes a successful business? What do you need? Unlike the views expressed by business 'savant' character Michael Scott from "The Office", there are a couple fundamental things each business needs to do to stay in business and be successful. These may not be the thoughts that are on the top of your mind, but chances are if you're the owner, entrepreneur, or management team of your business you inherently know them, and are instinctively driven by them.
To be successful in business we need to create outstanding customer experiences and outcomes by solving real customer problems and creating delighted customers. When you continually deliver on these fundamental concepts, just about everything else in business - from profits, to growth, to brand reputation - is downstream. And it doesn't matter what type of business you own or operate. If your business does not continually deliver great customer experiences, you're not likely to be in business for very long. For those of us that do focus on delivering great customer experiences, we're typically rewarded with repeat customers, growing numbers of customers, and loyal customers who behave as ambassadors of our brand, promoting our business to others. These businesses enter and stay in the so-called 'customer loyalty loop'.
Delivering great customer experiences positions your business to develop loyal customers. But why are loyal customers important? Loyal customers tend to be the most profitable customers, requiring less effort and expense to support. Loyal customers tend to buy more from you, and as an existing customer each incremental sale requires little to no extra expense (again contributing to increased profit). And lastly, yet arguably most importantly, loyal customers can be your best (and least expensive) way to promote your business and brand to others. Research conducted by the father of Net Promoter ScoreSM, Frederick Reichheld of Bain & Company, shows an increase in customer retention rates of just 5% can increase profits by more than 25%2! Keeping customers in this loyalty loop pays dividends. So how is this done?
Creating great customer outcomes and delivering great experiences are business skills and processes that can be easily formed by any business. Regardless of whether your business is large, small, established, a startup, service-oriented, product-oriented, traditional 'brick & mortar', or 100% online,this paper aims to educate you as to the methods by which you can employ processes to deliver outstanding customer experiences and build your own customer loyalty loop.
Although Michael Scott missed the importance of creating great customer experiences in his business discussion during the hysterical episode "Business School" from the The Office, if you employ the practices discussed in this paper and help your customers enter and stay in your customer loyalty loop, you too will enjoy a "PayDay".
1 "Business School." The Office. 5 February 2007. Season 3, Episode 16. Television.
2 Reichheld, Fred. "Prescription for cutting costs." Bain & Company Inc.
We're changing our name to LoyaltyLoop!
My goal is to deliver solutions that help you engage your customers to learn from their experiences, and help you turn that feedback into actions to grow and promote your business. While we do use online survey technology in our services, our product has and will continue to evolve beyond just a survey tool. As a result, I feel the time is right for me to evolve our company name as well.
Since the beginning of 2019 you may have noticed that I started marketing our company as "LoyaltyLoop by SurveyAdvantage", and our website URL became loyaltyloop.com, with surveyadvantage.com redirecting to it.
As we enter 2020, you will see us fully rebrand the company to LoyaltyLoop. Our email addresses will change to @loyaltyloop.com, and we'll be answering the phones as LoyaltyLoop. But rest assured the only thing changing is our name. We are the same company, run by the same people, with the same team, delivering the same great service and support we always have.
We hope you, too, embrace our name change to LoyaltyLoop.
Thank you,
John DiPippo
Owner