NEW Enhancement: Feedback by Filter
Run reports for greater insight into customer attitudes
On your Feedback tab, we've made some great enhancements to the powerfulFeedback by Filter reporting. Now you can choose the questions to include in your report, as well as type of calculation presented in the output. You can choose between a traditional satisfaction score (CSAT) calculation or a Net Promoter ScoreSM (NPS®) calculation.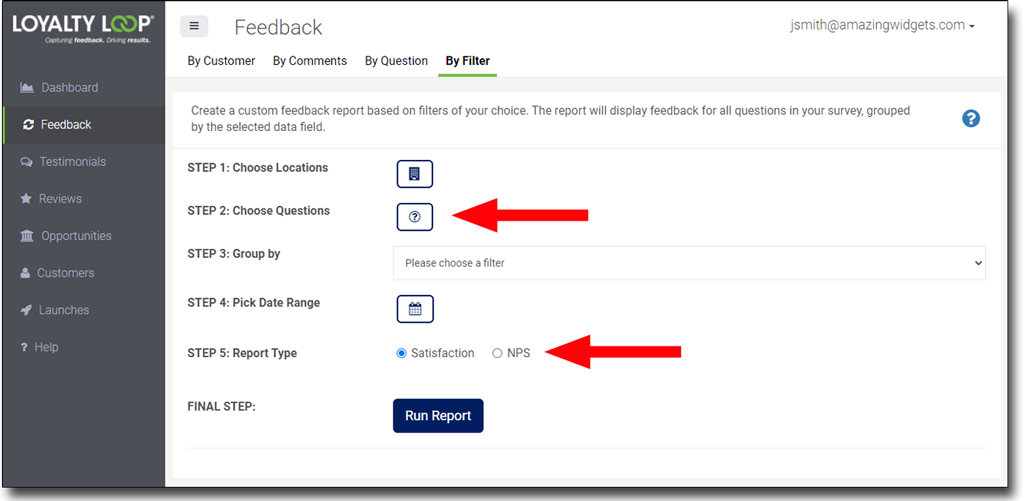 The traditional satisfaction calculation provides the percent of all positive responses relative to all responses. For example, if you have a question asking how satisfied your customers are with your product quality, and the choices are "Very Satisfied", "Satisfied", "Not Sure", "Unsatisfied" and "Very Unsatisfied", the calculation would take the sum of respondents who are "Very Satisfied" plus "Satisfied" and divide it by the total number of respondents. This gives your a percentage between 0% and 100%.
When using the NPS calculation, it will take sum of respondents who chose the top choice or choices (aka "Promoters") minus the number of respondents who chose the bottom choices ("Detractors"), and divide it by the total number of respondents. This gives you a score between -100 and +100.
Here's an example of how you can use this powerful reporting. Let's assume the data you send to LoyaltyLoop includes the sales rep who manages the surveyed customer. You can now run a report to see the NPS rating of all customers who are managed by each sales rep. Looking at the variation in ratings will help you target areas for improvement and enable your sales reps to help create more loyal customers.
In the above example, the goal here isn't to reprimand anyone, but to find out how the better performing reps can help the others to improve. Use this information to round-table techniques and strategies that will help improve the relationship between your business and all your customers. In a very short time, you'll see overall customer satisfaction improve and with it, customer loyalty.