Tip
Ensuring Quality and Quantity of Feedback

Photo by Oleg Laptev on Unsplash
In your pursuit of delivering outstanding customer experiences, it is important gather feedback from all customers who interact with your business. This allows you to identify issues with anyone with whom you or your team engages. Is it adequate to survey only your primary customer contact? Is it overkill to survey every customer contact you engage? What about surveying people who have yet to buy from you but have been issued a quote or are otherwise active in your pre-sales process? The answers to these questions will be unique to your specific business, however there are some general guidelines to ensure quality and quantity in your feedback.
Engage all of your customer stakeholders
The collective experience of your customers is your business reputation, and hence, how strong (or weak) your brand is perceived to be. Your goal should be to deliver outstanding customer experiences, and in doing so you need to understand if you're succeeding or failing with anyone engaging your company. Depending on your business, this may be only a single customer contact. However, if your business interacts with various other customers contacts (e.g., senior leaders, buyers and purchasing agents, accounts payable staff, users of your services or products, etc.) it is important to consider if they too should be included in your feedback loop. Take the time to periodically review who is being surveyed, and whether you're missing key contacts. Update your CRM or other contact system to ensure all the appropriate contacts are being asked to give feedback. Connect multiple contacts sources to your feedback loop service. Many feedback services like LoyaltyLoop can connect to multiple systems to ensure you reach all your key stakeholders to give a complete understanding of your company's reputation.
Tell your customers about your need for their feedback
It shouldn't be a secret to your customers that your goal is to deliver outstanding experiences to them. Let your customers know that in order for you to be the best partner to them, and in order for you to make improvements in your business that benefit them, you need honest and unbiased feedback from them. Let your customers know that any feedback they provide is for their benefit. Tell them what you do with their feedback, and how it gets incorporated into your continuous improvement plans allowing you to deliver better products and services to meet their needs, and provide better overall experiences for them.
Your goal is to gather feedback from your customers throughout their journey with your business, and for the life of the customer's relationship with your business. When a customer gives feedback once, they may feel it's ok to skip your next survey. How can you ensure customers give ongoing feedback? Educate your customers as to the importance of their ongoing feedback to you.
Here are 2 approaches you can use
1. Personal Conversations
Ensure all customer-facing staff understand your company's objectives relative to delivering great experiences, and have them educate customers in the normal course (and at the appropriate times) of doing business – whether in person, on the phone, or in email. For example, after a sale is completed have your staff remind the customer that you need their feedback to ensure you're doing a great job for them. Let them know they'll receive a feedback form in email that will take them only a minute to complete. Make certain the customer knows you want their honest feedback – the good, the bad and the ugly. WARNING: Neither you, nor your staff, should 'steer' the customer in any way or attempt to influence the customer's feedback. Do not ask them to give you a 'top score', or tell them not to give feedback if they're unhappy with their purchase. This will backfire and prevent you from truly understanding what you can do to improve and deliver on your goal of providing great customer experiences.
2. Personal Letter (or email)
Soon after gaining a new customer, but before you execute your first survey, consider sending each new customer a personal letter (yes, a printed and mailed letter) from the business owner or top senior leader. The letter would welcome and thank the customer for their business, and outline your company's desire to deliver great experiences to them. Your letter would describe the feedback process you employ, how the process is designed to benefit them as well as you, and outline why you need their regular input. Again, the message should be focused on helping your customers understand why you seek their honest, unbiased feedback. Of course, you can also use email to deliver this message, however for certain businesses a personal letter may be more engaging.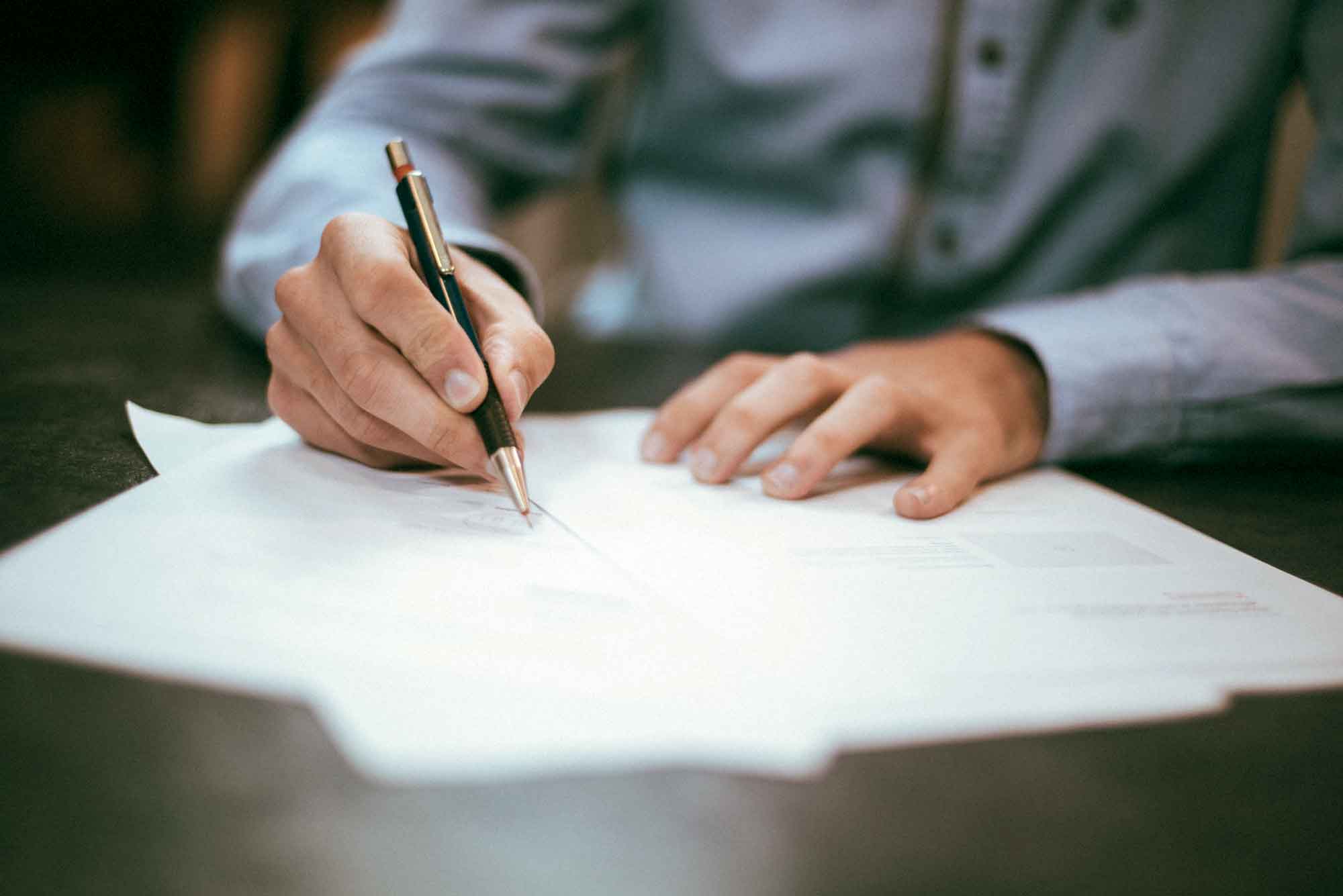 Photo by Scott Graham on Unsplash
Tip
LoyaltyLoop Tells You What You Need to Know and When!
When was the last time you looked at the configuration of your alerts in LoyaltyLoop? Odds are you set up your Poor Survey Alerts when you created your account with us and haven't given your alerts much thought since. Here's a rundown of the alerts available to you and how to add users to the alerts to get the most out of them:
Poor Feedback Alert
This alert lets you know when one of your customers indicates they are dissatisfied in some way on their survey response. This alert is sent to you immediately so you may iron out any customer retention wrinkles. This helps you proactively manage a potentially unhappy customer situation BEFORE it blows-up, helping you prevent public-shaming on Google and social media that can happen when a dissatisfied customer is ignored. It is not uncommon for owners and business leaders to discover unhappy customers that were previously reported as happy by their staff, allowing the owner to "save" business by leveraging these alerts.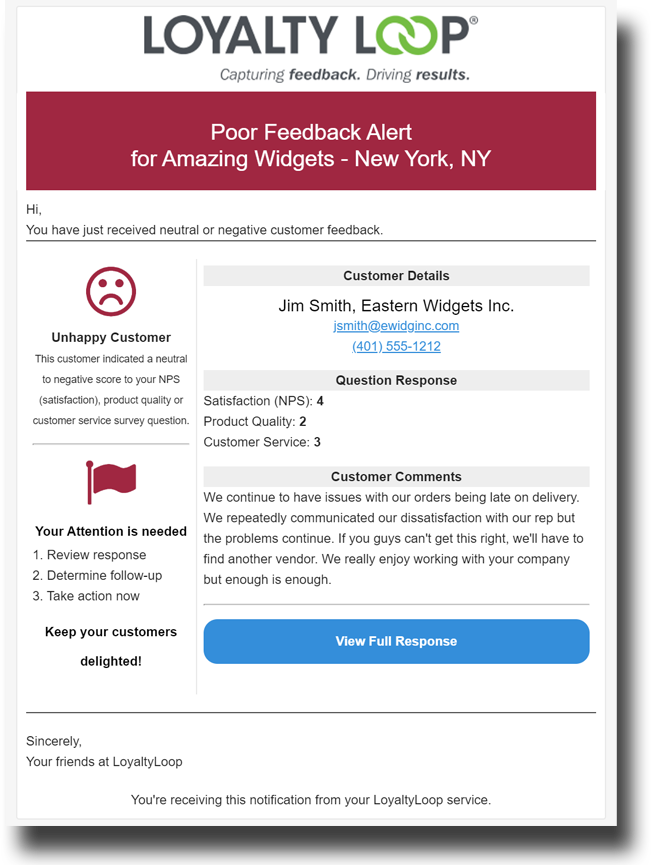 New Responses Notice
This is a daily notification that goes out only if you have new survey responses from the day before. Reading this feedback is critical to improving your products, services and customer experience.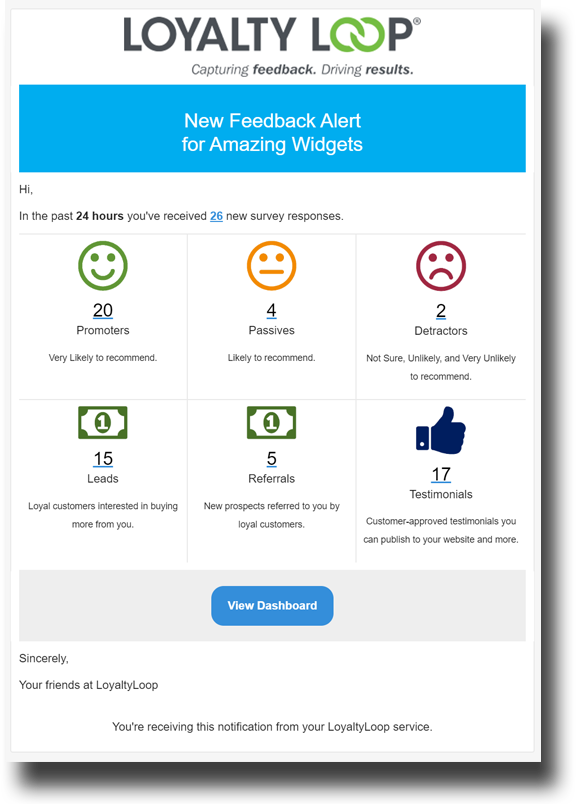 Weekly Summary Digest Email
This keeps you up-to-date on your progress for the week. It's a simple bird's eye view to see how you did for the week in which responses came in. Other than the Poor Feedback Alert, if there is one email owners and business leaders should read, it's the Weekly Summary. This email comes out each Monday morning and serves as your reminder to ensure you are taking action on the feedback. This email summarizes progress during the calendar month, and shows your Poor Feedback Alerts (which you'll likely already be addressing), but also the number of new Testimonials and Opportunities you've received. Use this email as a reminder to make sure your team is following up on the Leads and Referrals, and publishing your customers' Testimonials to your site and sharing them on social channels.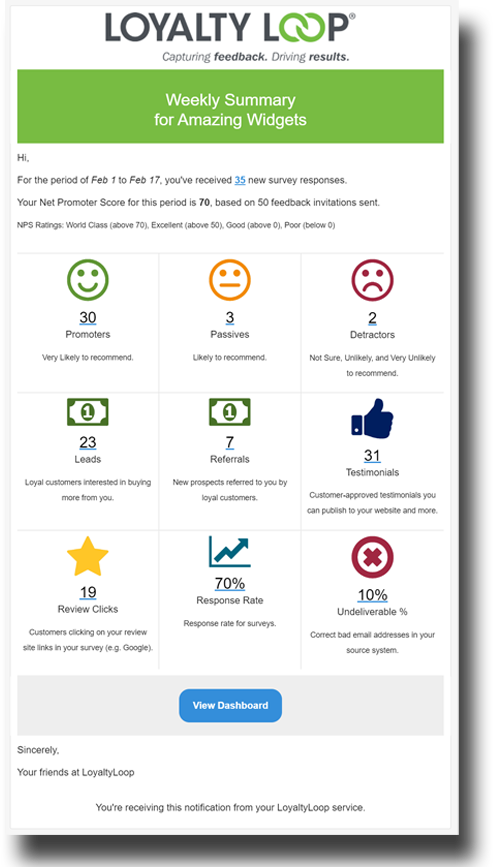 New Online Reviews Notice
This lets you know when you've received new reviews on Google. We outlined in greater detail in the past how to connect your Google My Business account to LoyaltyLoop, and this alert is tied to that service letting you know when customers post Google reviews. When you're alerted of a new Google review, click through to LoyaltyLoop to reply to the customer. Google reviews are public and social, so it's a good habit to regularly thank customers for posting their review.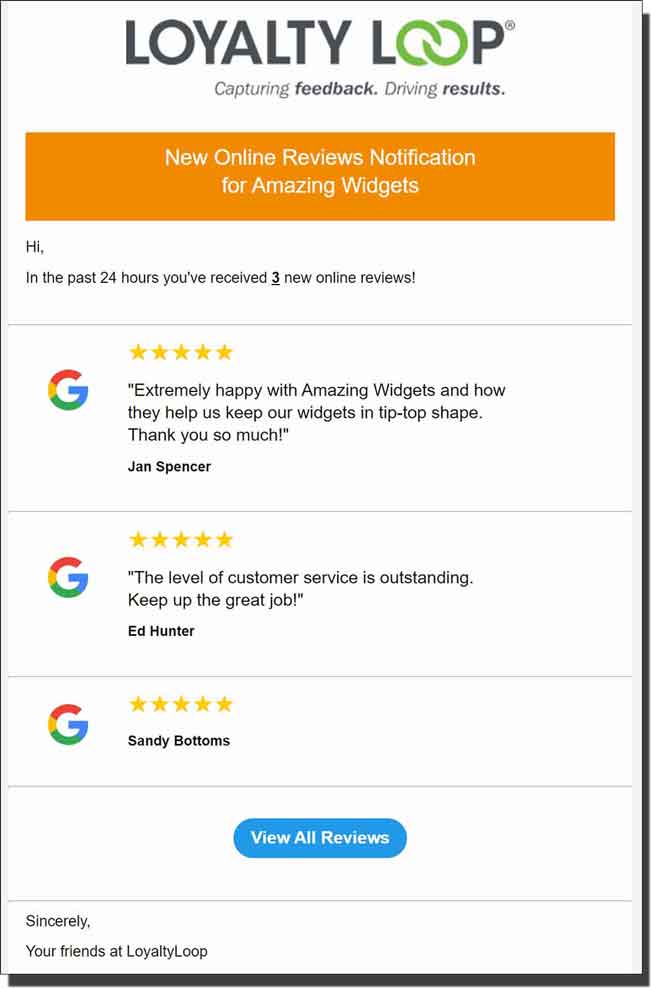 Lead and Referral Alerts
These alerts let you know when someone submits a survey in which they've indicated future possible business opportunities. These are customers who indicated in your survey they're interested in additional products or services you offer. The referrals are simply that, someone has submitted a name of someone else who they think could use your services. Have these alerts go to the correct staff so they can quickly follow up with these opportunities.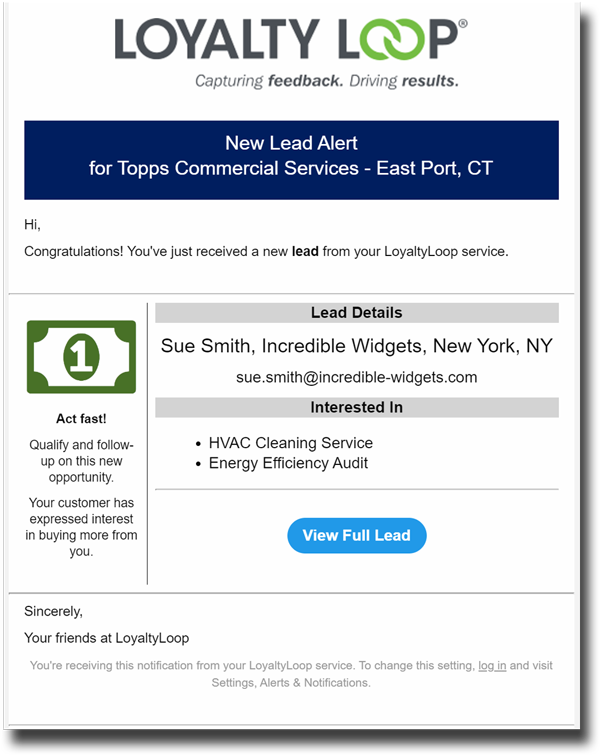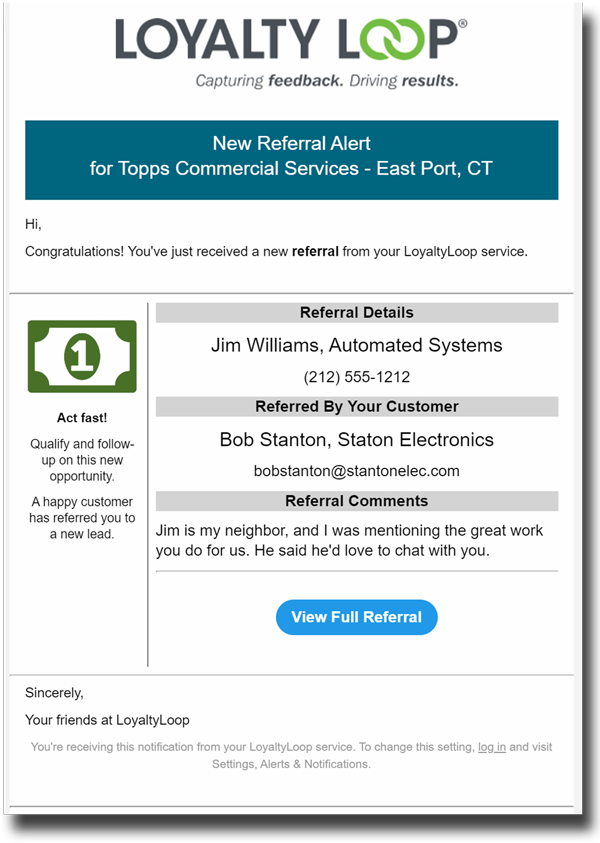 We recommend you set yourself to receive all alerts initially. Then, determine which alerts are for you, and which might be better for other staff. For example, you could send the Lead and Referral Alerts to your sales team, or the New Online Reviews Notice to your social media team. To add email recipients to these alerts log into LoyaltyLoop and go to Settings, choose a location, if necessary, and then click on Alerts & Notifications. Once there, you can add, remove or edit the emails of each alert's recipients.
Some alerts contain enough info as to not require logging into LoyaltyLoop. However, it may be a good idea to create User accounts for your staff to ensure they too have access to all the details. As covered previously, to to add new users in LoyaltyLoop, log in (Youmustbe an Admin on your account.) go to Settings and then click on User Accounts. Use the plus (+) button to add new users. Enter their information and level of access, and they will receive an email detailing how to complete their account creation.
Using these alerts and notifications, you can interact with your customers in a timely way, which shows them you have enthusiasm about their feedback and will encourage them to leave more in the future.
Tip
Testimonials, Your Customer Content Factory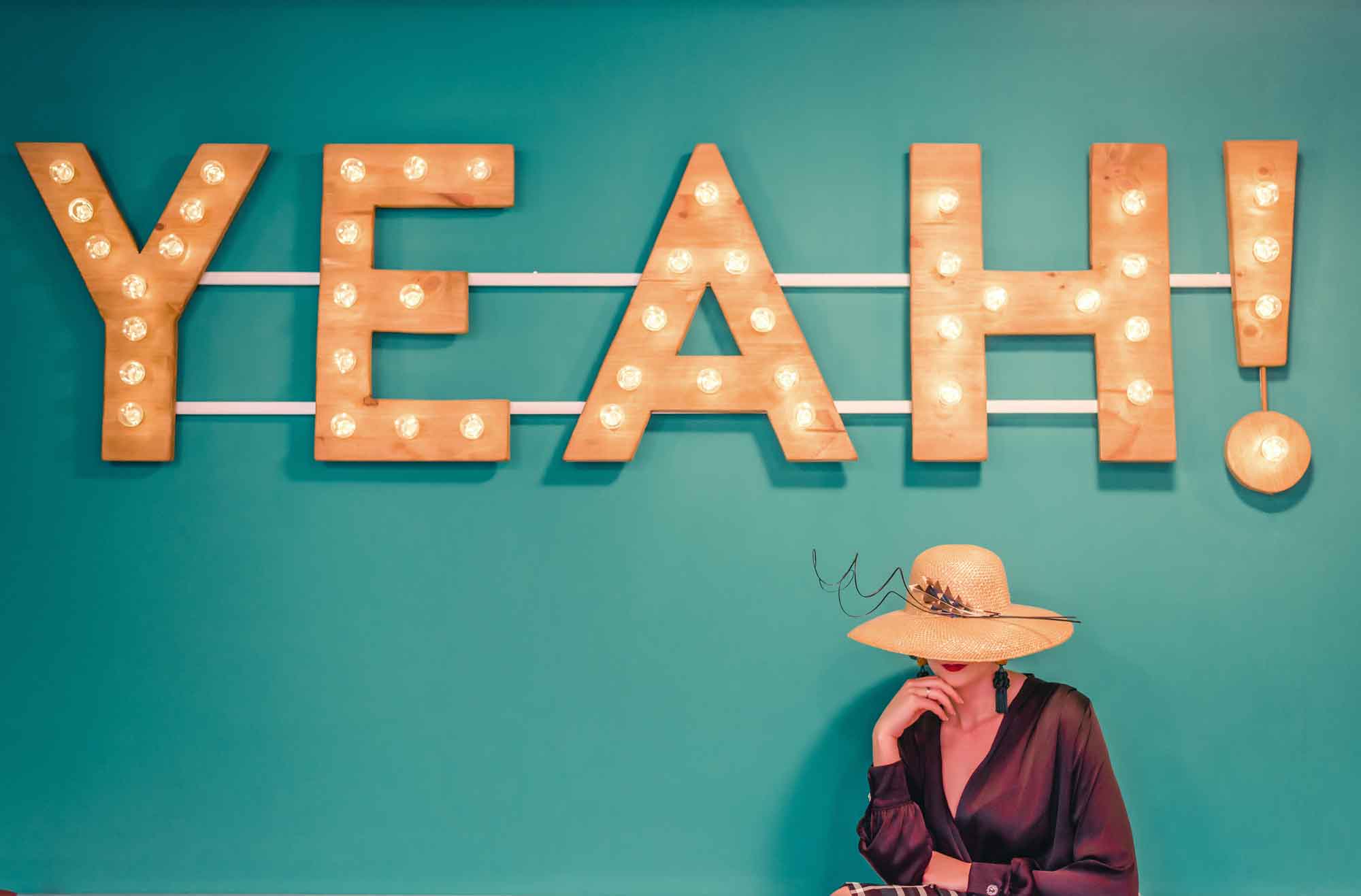 Photo by Fausto García-Menéndez on Unsplash
The great thing about collecting customer testimonials on your LoyaltyLoop survey is that it's a customer content factory. It's a continuous supply of marketing content that you can use, where your current customers describe why they like doing business with you in their own words.
A steady stream of new, fresh customer-generated content! Your existing customers make a case as to why potential customers should do business with you. What better way for prospects to learn about your business than in the words of your existing happy customers?
If a customer provides a testimonial about a product or service, feature that testimonial on that product or service's webpage or ecommerce site. When a potential customer is making a purchase decision, the testimonial is right in front of them, not on another page solely dedicated to showing testimonials.
Consumers making a purchase decision will seek out your testimonials to see what others say about you. LoyaltyLoop also allows you to publish testimonials to a dedicated location on your website, as well as allow you to copy the testimonials to popular social media sites. Disseminating testimonials to your website and social media will ensure customers can find the recommendations they need.
Also, consider using LoyaltyLoop's Testimonial Badges to populate feedback scores throughout your site. As covered previously, you can use horizontal and vertical testimonial badges so they will appear on any webpage where you add the code.
Testimonials can be "published" in the brick-and-mortar world as well. Print out testimonials and place them in your storefront or office. Place them on the front door or in any other high traffic area. This way visitors can see they are interacting with the right company for their needs.
Do you issue quotes to prospects? Include a few fresh testimonials for the same product or service at the bottom of the quote.
If you use the export tool in the Testimonials are of LoyaltyLoop, you can open the resulting CSV file and paste the testimonials into a word cloud generator, such as WordArt. You can then post the resulting word cloud image on your social media, or even on the wall in your break room where employees can read them for motivation.
You can also place a choice testimonial in your email signature so it goes out with every email you send. Anyone you communicate with will see the great things your customers say about you. Rotate it out every month or so, so it doesn't get too stale.
With some creativity, you can get your testimonials read by people who need to see them.
Learn
What To Do If Your Google My Business Account Gets Suspended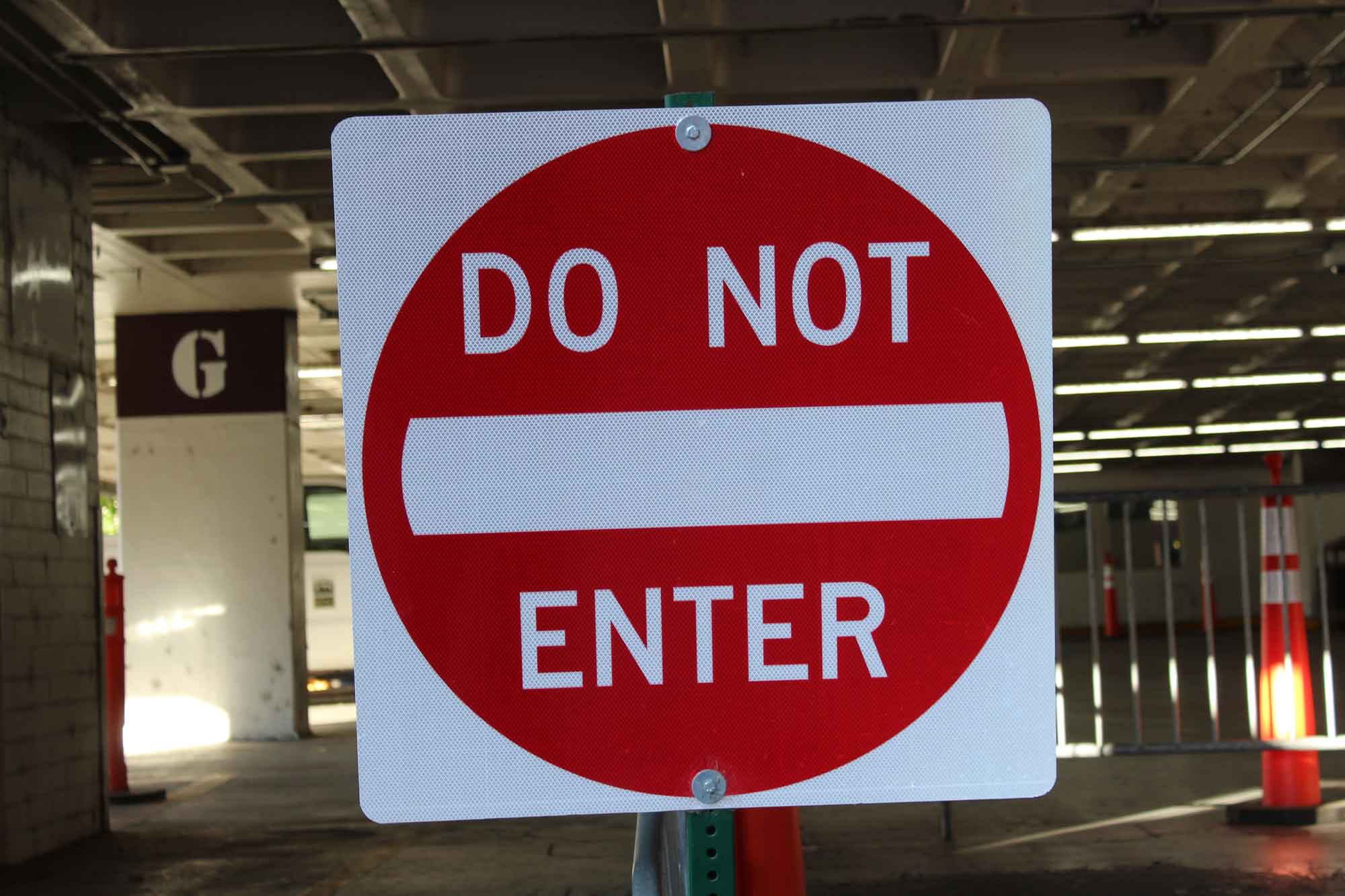 Photo by Sanchez Amerzcua on Unsplash
Search Engine Roundtable writes writes that Google My Business (GMB) has been cracking down on businesses that it can't track on Google Maps for the last year or so. Some are businesses that have their offices in homes, virtual offices, or have PO boxes for their address. When you receive a notice that your account has been suspended, what do you do?
When GMB notifies you that your account has been suspended, they will provide a link that will allow you to reinstate your account. When you do, you want to make sure you take care of the following things before their people review your details:
Make sure your business is listed at the correct location. This means you have to have an office that customers can visit, and it's at a real address, not a PO box. GMB doesn't consider mailing-only addresses and virtual offices to be accurate physical addresses.
If you have an answering service that answers 24 hours a day, make sure your listed hours are only for when someone may visit.
Make sure you've listed only one business under the name of your business. Having multiple listings for the same business can get you suspended. This is also true if you use a different business name than you have on file with your state or local government.
Make sure your business has the same name across your websites, and make sure none of your websites have forwarding URLs.
Be sure to resolve this as quickly as possible as your reviews are at risk. If ignored, GMB may remove your listing entirely and if it is restored later, the reviews could be unretrievable.
Learn
We're Getting a Fresh New Look
Every once and a while it's necessary to look in the mirror and decide if it's time to update our look. We like our look and for the most part, so we don't need a full make-over but we could use a little freshening up.
In May, you'll see our slightly enhanced logo and new website. You'll also notice a new switch on your dashboard to preview and experience the BETA version of the new LoyaltyLoop user interface that will be released later this year.
We love the changes our designers have made and we hope you'll like our refreshed look too.