We've changed our name to LoyaltyLoop!
As you may have read in our prior newsletters, I'm excited to announce we have officially changed our company name from Survey Advantage to LoyaltyLoop on January 1, 2020.
Rest assured the only thing that has changed is our name. We are the same company, run by the same people, with the same team, delivering the same great service and support we always have. I feel our new name positions us better for the future, and more clearly describes the value we deliver to you, our customers. We hope you too embrace our new name.
Measuring Customer Satisfaction & Loyalty with Surveys
You never know how your customer feels if you don't ask.
Let's face it - we are inundated with surveys. Chances to win gift cards that will never materialize, false promises of 'quick' surveys, and unacknowledged poor experiences all lead to a general frustration with surveys as a whole. They are typically too long and inconveniently navigate away from whichever email or webpage they originate from.
However, surveys really are the most efficient way to receive feedback from customers. Many transactions occur online, so there is limited or non-existent opportunity to create in-person relationships with customers. Surveys are a direct communication from consumers about their experience with your brand. Therefore, you should be using them to gather feedback from your customers. Surveys are also an integral part of the post-purchase experience phase of the 'customer loyalty loop' (see Section 5, The Evolution of the Customer Decision Journey).
If you're going to use surveys (and you should),do it right. Asking for feedback is one aspect, and acting on it is an even bigger one. If you genuinely want to know what your customers are thinking/feeling about your brand, and are committed to creating a long-lasting relationship with your customer to keep them in the customer loyalty loop, follow these guidelines: keep it short, make it easily accessible, know what you're trying to measure, and (most importantly) follow up.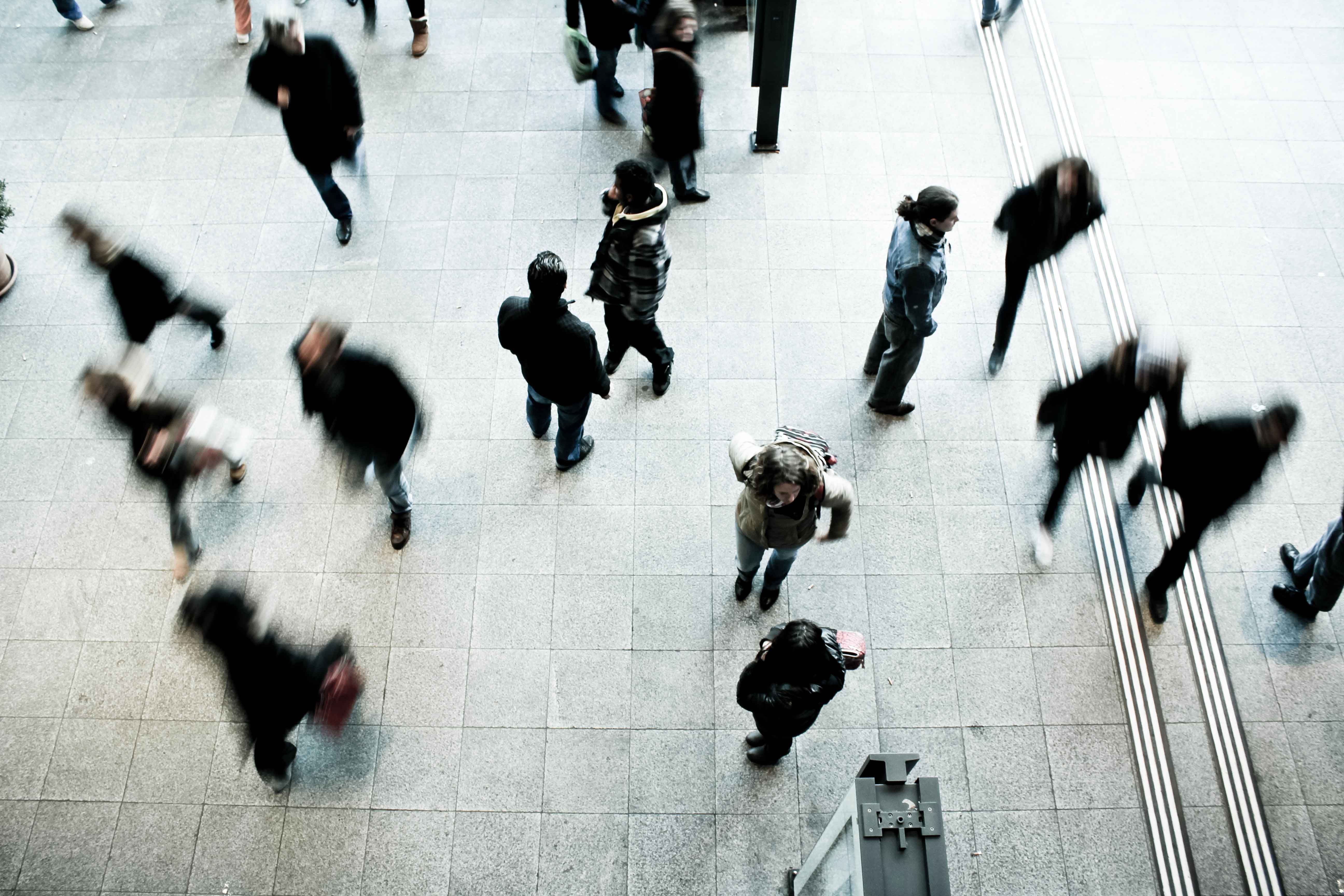 Photo by Timon Studler on Unsplash
People are busier and more distracted than ever.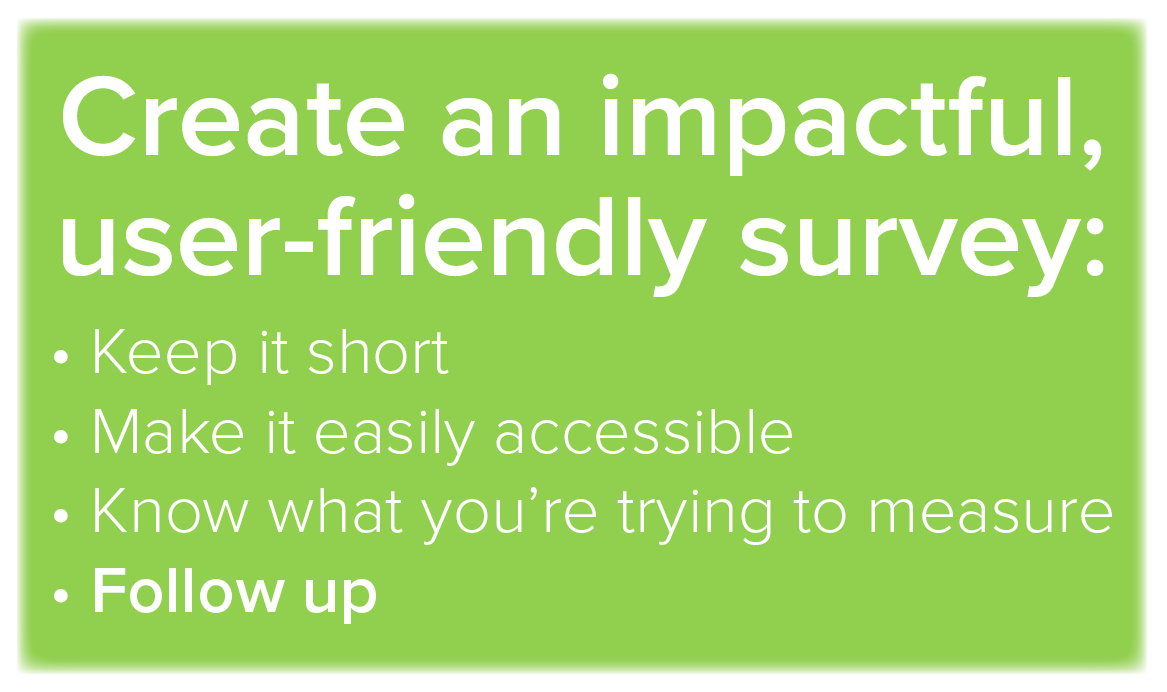 Keep it short
People today are busy and distracted. The chances of them finishing (or even starting) a long survey are almost nonexistent. Keep your survey to one or two questions for maximum response.
Make it easily accessible.
Hopefully you've captured as much information about your customer as possible to use in future marketing communications, with email address being the most basic piece of information. Email is going to be the easiest way to distribute your survey. Send it to your customer soon after their transaction, while their experience is still fresh in their mind.
Know what you're trying to measure.
There is an old adage, 'In business, like in life, you cannot improve that which you do not measure.' What are you trying to improve? What will you do with the information you collect? There is no use asking questions blindly with no clear vision of what you'll do with the responses. Asking highly intentional questions will yield intentional results.
Follow up!
This is an integral stage of the post-purchase experience phase of the customer loyalty loop. Thank your customers for their feedback, regardless if it's positive or negative. Reinforce positive experiences with incentives and respond to negative feedback quickly to create a positive remembered experience and increase your chances of capturing repeat business.
Now that you've listened to your customers and are armed with their feedback, you need to turn their feedback into actions. Delivering outstanding customer experiences is a continual process of gathering feedback and making adjustments. Nothing in business is static. We must continually evolve and adapt based on our customers' needs.
Develop good habits of regularly reviewing customer feedback to identify trends. Implement corrective action plans when negative issues and trends crop up. Close the loop with customers to let them know what corrective action plans you've implemented that address specific issues they've experienced and expressed. When you find positive trends, ensure your marketing embraces what customers say are great about your business so others can know too. Your customer feedback process, just like your business, is ongoing.
Develop a culture where customers are heard – the good, the bad, and the ugly - their feedback is analyzed, and improvements are made. Through these customer-inspired continuous improvements, more customers will remain in the loop and you'll be delivering greater numbers of outstanding customer experiences.
Measuring CSAT vs. Customer Loyalty
Measuring CSAT is like a snapshot of how a customer feels at a given time. CSAT is measured with survey questions in the form of open-ended questions, multiple choice questions, questions with a range from 'Very Dissatisfied' to 'Very Satisfied,' Yes/No questions, among others.
On the other hand, measuring customer loyalty is more of a long term look at the value of your customers7. Examples of Customer Loyalty surveymetrics include Negative Churn, Customer Retention Rate, Customer Lifetime Value, and most importantly, NPS® or Net Promoter ScoreSM (explained in side bar).
An important follow-up to the NPS question is to ask for open-ended feedback. Encourage customers to write reviews for you on Google, your Facebook page, and other review sites that matter to you. Ask if you can use their comments in your marketing materials (See Section 8, The Power of Customer Reviews and Testimonials, p. 17). Of course, you should treat your detractors with just as much attention. Reach out to them directly to discover why they had a bad experience and find a way to remedy it.In absence of your attention paid to detractors, they may seek to post negative reviews online.
Gathering this information is just the beginning; what you do with the information is more powerful than the information itself. Your goal is to use this data to improve your business and increase the number of loyal customers to you and your brand.
Net Promoter Score (NPS)
Regardless of your industry, one of the best ways to measure customer loyalty is to regularly measure your Net Promoter Score(NPS). NPS is a simple metric that allows you to gauge your customer's sentiment toward your business. It is calculated by asking one question: How likely is it that you would recommend our company to friends and colleagues? The customer is presented with a scale from negative sentiment to positive. There are various scale options, but the most popular scale presents choices from 0 to 10 (0 being very unlikely and 10 being very likely). Those who answer 0-6 are considered 'detractors,' who are not satisfied. Scores of 7-8 are 'passive' or on the fence. The happiest, most satisfied customers who score 9-10 are considered 'promoters.' Promoters are your biggest fans and are highly engaged with you brand.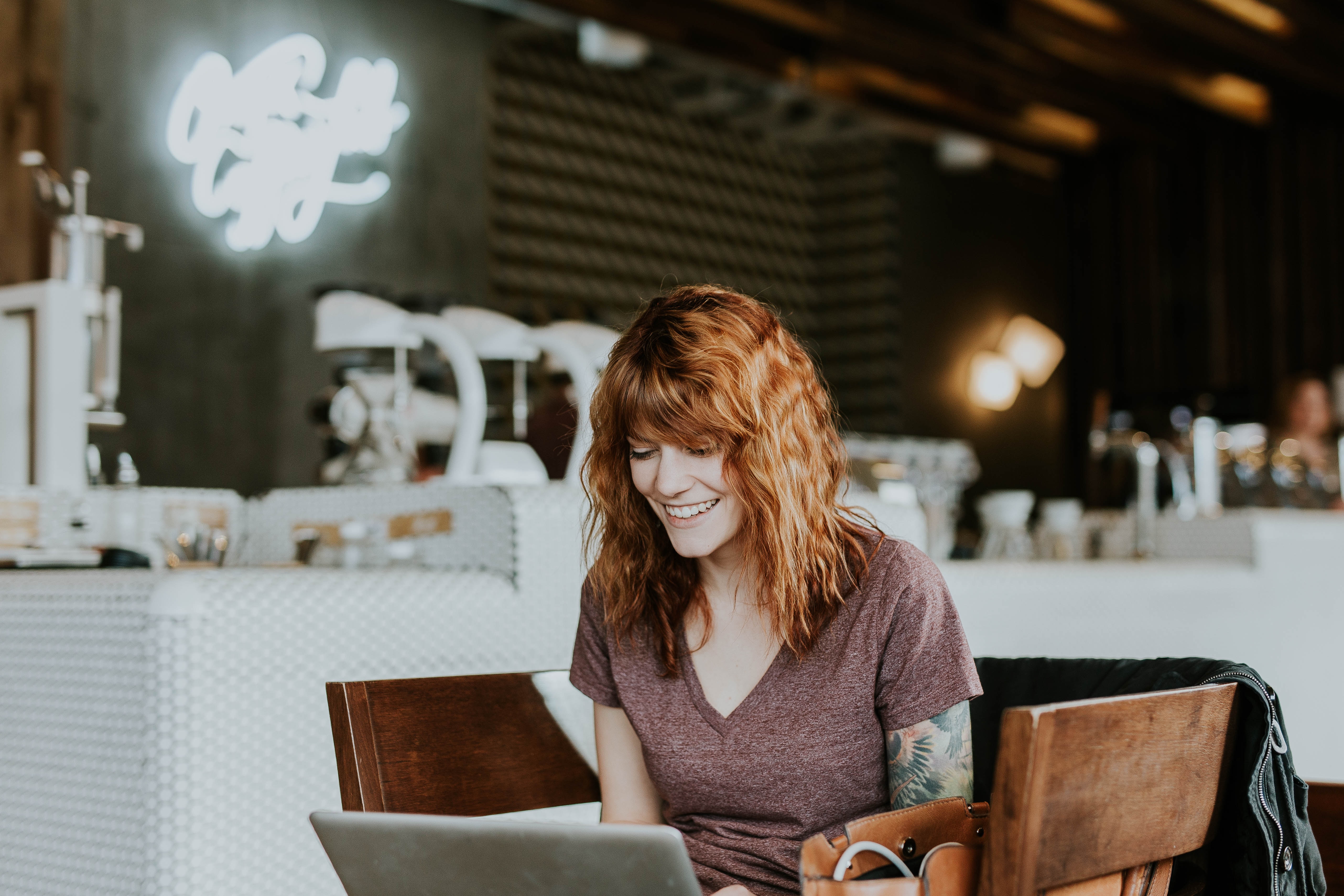 Photo by Brooke Cagle on Unsplash
Promoters are your biggest fans.
People who respond to the Net Promoter Score question with a rating of 9 or 10 are your promoters. They are likely to speak well of you online and recommend you to their friends. Engage them in the post-purchase phase of the customer loyalty loop - reward them with exclusive offers, advance notice of product launches, free swag, etc. and encourage them to leave reviews for you. Learn more about promoters in Section Five, The Evolution of the Customer Decision Journey.
7 Rodriguez, Jimmy. "What's the Difference Between Customer Satisfaction and Customer Loyalty?" Hubspot. Date unknown.
Schedule Your Annual LoyaltyLoop Check-Up
It's always a good idea to revisit your customer feedback survey and overall settings occasionally. At a minimum, we suggest you do an annual check-up of your overall feedback process either on your own or with one of our experts. When having a check-up with us, we'll review all aspects of your service with you live on a screen share, just as we did when originally configuring your service. Some of the key items we'll review include:
Are you surveying all your customers, or only a subset?
Does your survey data include all key associated details so feedback is most impactful to you?
Do any questions need to be updated?
Do your emails still reflect how you communicate with customers and is your signature accurate?
Is your survey using the new mobile-friendly theme?
Is your survey configured to accept image testimonials?
Do your "other products/services" list the correct items in the correct order?
To schedule your LoyaltyLoop check-up, please email us at support@loyaltyloop.com at any time.
LoyaltyLoop Enterprise Alerts & Notifications
We've recently added new Alerts & Notifications available to all LoyaltyLoop Enterprise users. Receiving these alerts is the easiest way to stay informed of customer feedback trends of your assigned locations. There are 3 alerts available to you:
Daily New Feedback Alert
Know when your assigned locations and franchisees have received feedback, and what their results are. Help locations turn feedback into actions. Are they following-up with unhappy customers? Are they following-up with customers who express interest in buying more? Are they promoting their happy customers by publishing testimonials to their website and sharing them with their social media followers?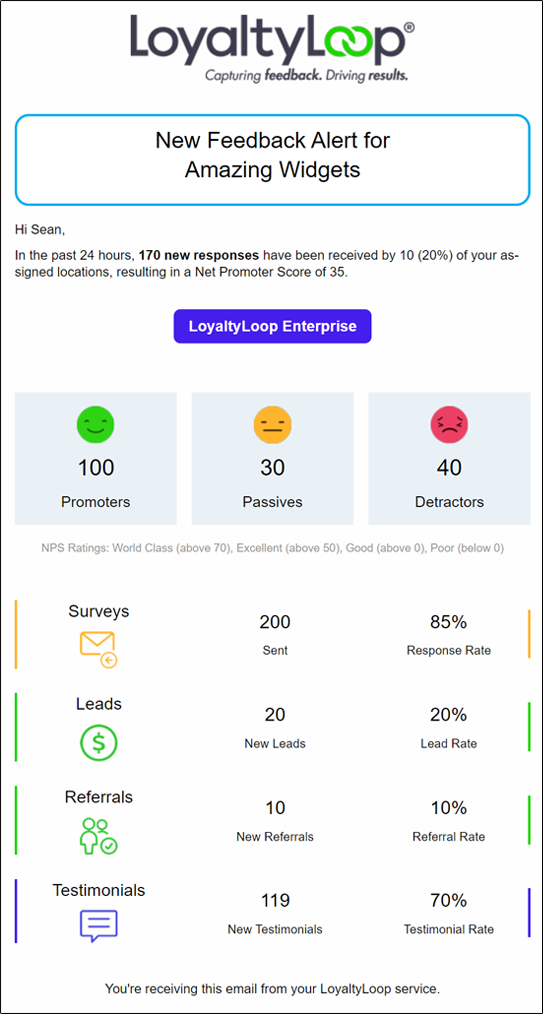 Daily Detractor Report
Get alerted when your assigned locations and franchisees receive neutral to negative feedback. Don't let unhappy customer situations fester. Ensure your locations are following-up with unhappy customers to rectify problems, are identifying continuous improvements for their business, and are mitigating possible 'public shaming' when unhappy customers are ignored and turn to online review sites and social media.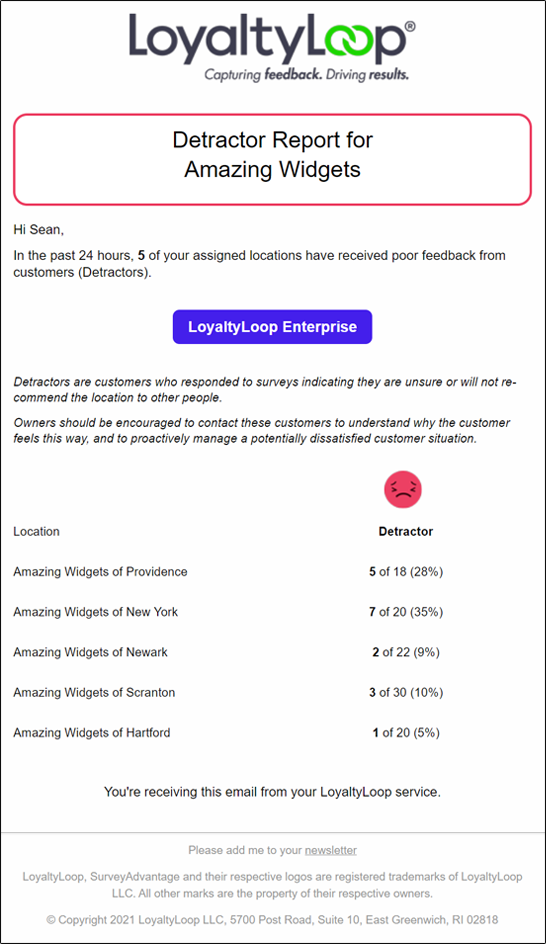 Weekly Summary Report
Receive a weekly summary of how all your assigned locations and franchisees are performing. Are they heading in the right direction to create growing numbers of delighted customers and strengthening your brand?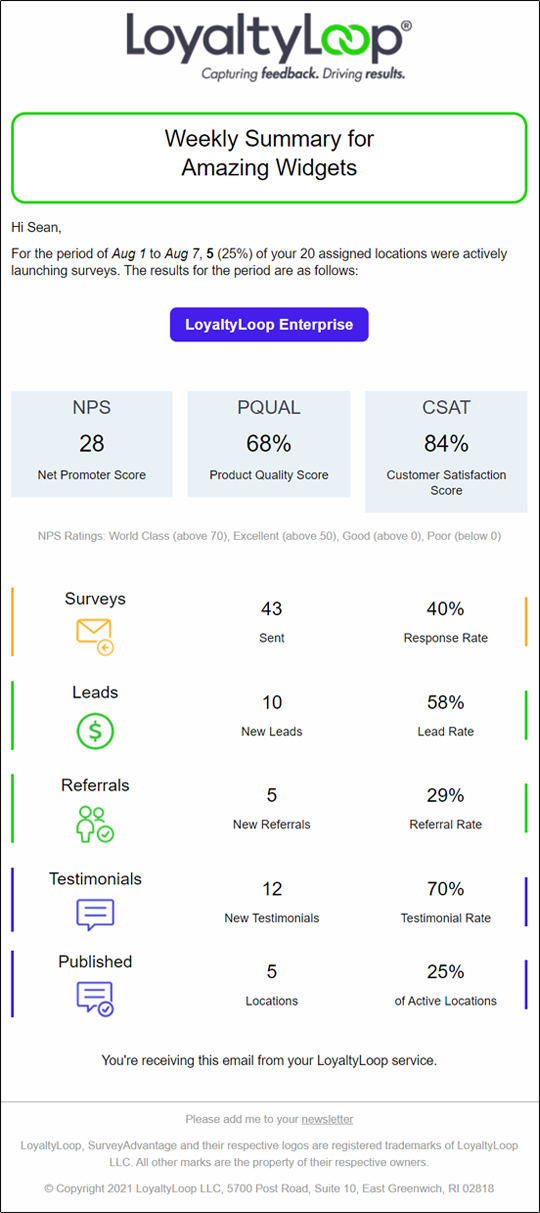 Attending 2020 IFA Annual Convention? Stop by our booth #1119
Sean and John will be proudly representing our company this year at the 2020 IFA Annual Convention in Orlando Florida next month (Feb 8 to Feb 11). If you're attending, please stop by our booth (#1119) to say hi. We'd love to see you!