The Power of Customer Reviews and Testimonials
The Internet has democratized the distribution of information, mobilizing people to share their opinions about the world more widely than ever before. By empowering your customers to use their voice and establish your brand's quality, you can usher them through the customer loyalty loop and keep them loyal.
Customer reviews are comments posted by your customers on social media, review sites, and business listings like Google My Business. Typically, most review websites include a 1-5 'star' rating as well as an open-ended text option for customers to write in their own words about their experience. To ensure authentic customer reviews, online review sites like Google and Facebook require the review be posted by your customer, and now most retail sites only allow verified customers to write reviews. If your customer had a good experience - great! They will probably write wonderful things about you. If they had a bad experience? Get your tissues ready because, whether you like it or not, you cannot control what someone says about you on the Internet; reviews from customers are a double-edged, but necessary, sword.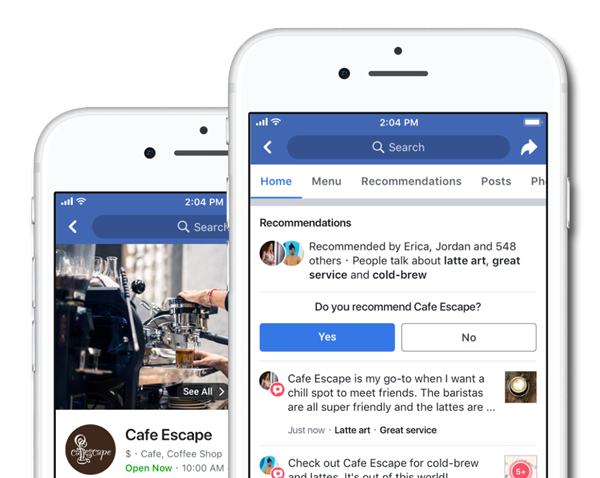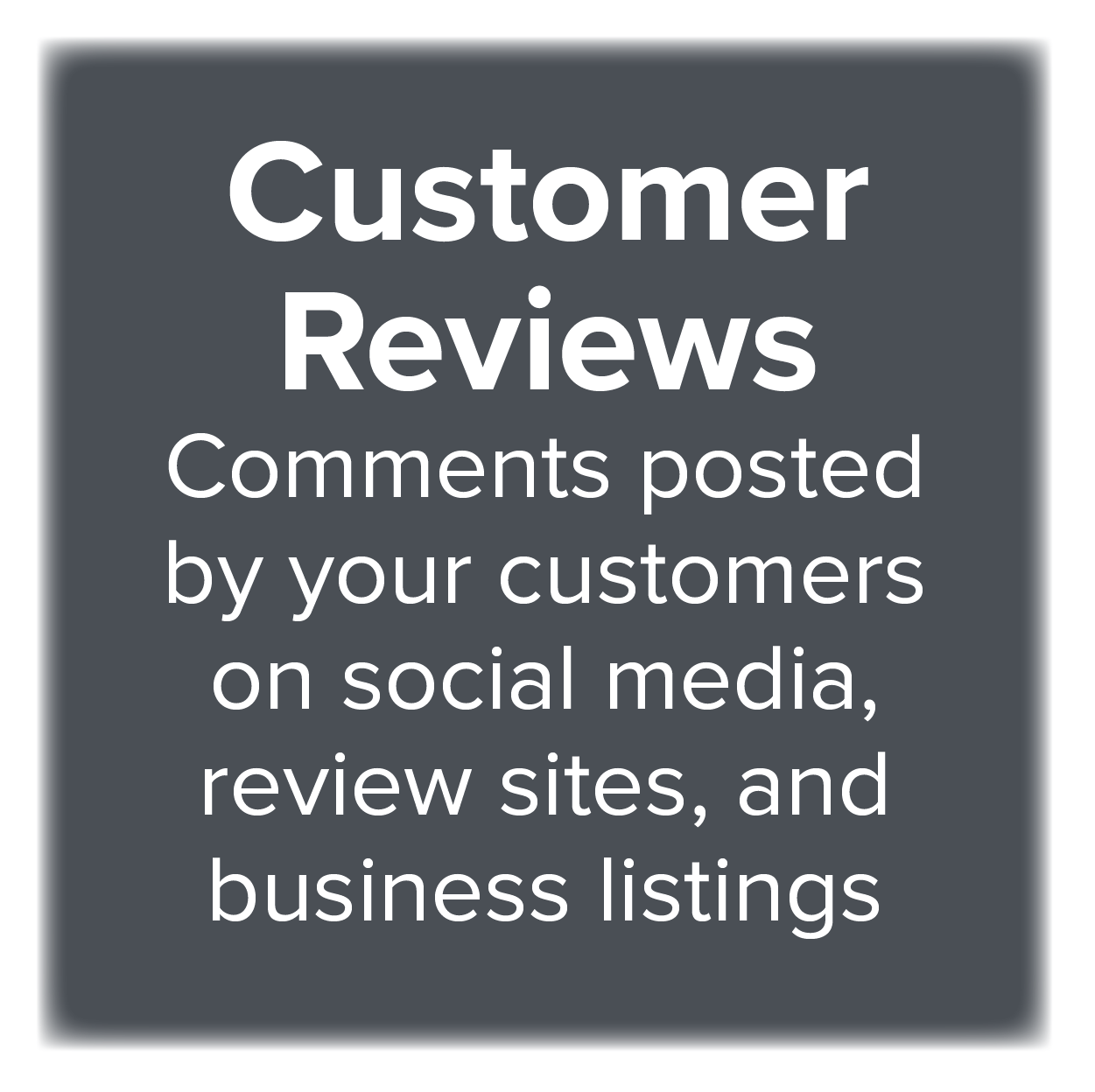 Like so many parts of our lives, the Internet has moved what were in-person conversations online for everyone to see. Reviews are like the 2019 equivalent of watercooler- talk - people hanging around talking about their experiences. 'Hey Sue, how was your weekend?' 'Oh it was great, I tried a great new Italian place in my neighborhood called Luigi's, how about you?' 'Ugh, I waited all day for the repairman to come fix my fridge and he never came - I'm definitelynot using that company again!'
Of course, gathering online reviews is not always easy. It's also no secret that companies have used unethical practices to get positive reviews. There is a gray (or even black) market for online reviews, where businesses purchase reviews for sales that never even existed. Mega-retailer Amazon has been cracking down for years on these review-farms, to cut down on reviews for compensation.
While these practices are obviously unethical, how about asking friends and family to buy your product and leave a review? It seems innocent, but is it really the most honest representation of your customers? Tempting as it may be to purchase positive reviews or ask your friends and family to give you a glowing review, just don't.
The best way to ensure honest reviews is to ask your customers directly for their feedback. Encourage your customers to share their experience on Facebook, Google, and your industry-specific review platforms (e.g. Cars.com for automotive, TripAdvisor for hospitality, or Home Advisor for a range of service industries). Make it easy for your customers - include links to your social media and review sites in a follow-up email, where you thank them for their business and ask how their experience was.
Google Reviews for Business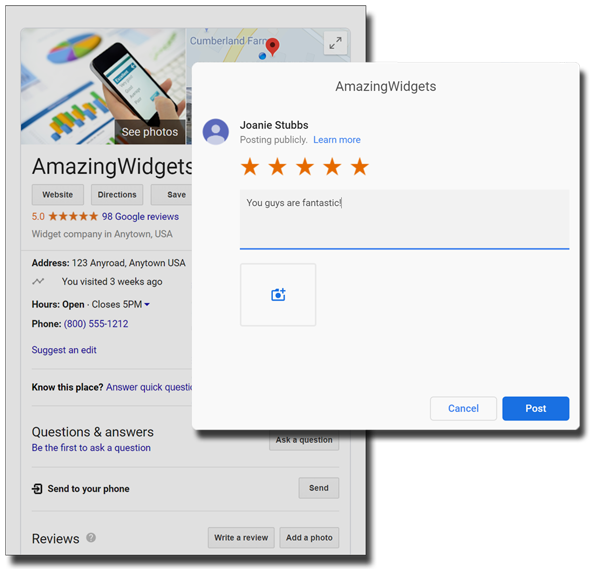 Online reviews are important. Countless Google reviews, Facebook reviews, and others are posted online every day, and just as many are read. One study found that "97% say customer reviews factor into their buying decisions and that 92% of consumers hesitate to make a purchase if there are no customer reviews. 14"
Avoiding Negative Reviews
In regards to avoiding negative reviews, respond immediately to any unhappy customer. Ensure you have a process to identify customer dissatisfaction, and a process to respond quickly. Arm yourself with the details of an unhappy customer's situation and call within minutes of identifying the issue to listen to the customer and remedy the situation. The very act of a senior staff member calling an unhappy customer goes a long way to delivering a more satisfying and rewarding customer experience.
14 "No online customer reviews means BIG problems in 2017." Fan & Fuel. Date unknown.
4 Ways To Maximize Your LoyaltyLoop Results
There are obvious ways you can use your feedback and some less-than-obvious
1

Creative Use of Testimonials

We know you're publishing fresh testimonials to your website regularly, but did you know there's something special about these testimonials? They only appear here if your customer has checked a box in your survey that gives you permission to use their comments in your marketing. That means you're not limited to using them on your website, but in other areas as well.

By posting testimonials on social media, like Facebook, you can increase business credibility by amplifying positive customer experiences. When potential customers visit your Facebook page, and they read others' comments who benefit from your products, they are more likely to visit you when they have similar needs.

And don't forget: You can use them in all forms of marketing! Print advertising, promotional materials, in-store displays, email marketing campaigns, in sales proposals, and if they provide a detailed enough comment, you can use them in case studies.

Testimonials can be used in blog posts! Like everyone, you're looking to improve your SEO, and blog content can help float you to the top.

Use them on specific product pages. If someone has something glowing to say about one of your products, let them sell for you on that item's page!

Promote your business in the most powerful way - by having your happy customers tell the story about why they love working with you. Don't let having a quick and convenient testimonial publisher limit your possibilities!
2

Feedback by Filter

After you've collected a good amount of feedback, take a look to see how your sales team is doing. In LoyaltyLoop, click on "Feedback" and then click on the "By Filter" tab. Filter by sales rep and see how they perform in relation to customer satisfaction. If there are any gaps in satisfaction, maybe there are a few things your sales reps can share to improve customer satisfaction across the board?

Use the same filter tool with other Client Data fields such as date, to see if satisfaction changes over time, or by postal code. These filters can help you see customer satisfaction in a different light, and can inspire you to make small changes where necessary. Overall customer satisfaction will improve and with it, customer loyalty.
3

Reviewing Results

Go to your Feedback, and click on "By Comments". This area is where you can see all of your customer comments, from Promoters, Passives and Detractors. Read through the comments for patterns. Do your customers always praise the same products or services? Do they praise your efficiency? Push those products and promote your quick turnaround in your marketing. Do you see suggestions for improvement? Put them on your roadmap; customers love it when you respond quickly to their requests. Share the comments with your team. Make sure everyone is on the same page with how your customers feel by making it a point to distribute all comments, not just ones targeted for improvement. A glowing comment can boost morale, and encourage your team to keep up the good customer service. Other comments can expose inefficiencies or product improvement issues that can be solved with group input.

Consider some form of reward for those rare, well thought out, or poignant comments that help you significantly improve your business. A coupon, or a handwritten thank you can go a long way to keeping a customer for life.
4

Following Up on Opportunities

Have you delegated your opportunities to your sales team? In LoyaltyLoop, click on "Opportunities". Immediately, you're presented with leads your existing customers have given you. Don't let them grow stale, make sure your sales team follows up on each one. Let your customer know that you've heard their needs and that you're ready for when they place an order.

Split up the leads among your sales team so each one is followed before your customers go elsewhere. Have them use the campaign tool to reach out using product-specific lead templates. For assistance, give LoyaltyLoop Support a call and we'll be glad to walk you or your sales team through the process.

Under the Referrals tab, you can find new contacts your customers have provided. Reach out to them, let them know who referred them and let them know you are available to provide professional solutions to their needs. Add them to your newsletters and include them in your marketing.

Your customers' feedback is an asset. Use all the tools available to you in LoyaltyLoop to uncover opportunities for improvement and growth!
Open For Business!?
You're open, do your customer's know it?

Photo by Artem Beliaikin on Unsplash
If you've tried to do anything recently, no doubt you've had to adjust your schedule for new hours at the grocery store or your favorite local restaurant. It can be difficult to find out who is open and when. But what about your customers? You've posted your current hours on your door or in your window, but have you made sure to update your hours online so customers know when to call, and what should they expect when they arrive?
In a recent Google My Business (GMB) post, Google recommended common updates to help you communicate with your customers, such as updating your business hours, updating your description with any delays or extra precautions you might be taking, and creating timely posts for updates on you and your services. Click herefor more information on how to make these changes.
Your customers come from all walks of internet life, they might not check Google, so be sure to also update any other online sites related to your business: Your website, Facebook, and any other sites commonly used by your industry. And lastly, don't forget to update your voicemail with your hours as well. The most old school of your customers may not even think to visit any of the above sites and may simply just want to talk to someone.
Hopefully, your customers already have no difficulty reaching you, but if they reach out, they'll find your info right away!
LoyaltyLoop Enterprise - Location Inactivity Report
We've recently added a new email report to help you manage your locations to ensure they are engaging their customers for feedback, and helping to boost their loyal customer following and your brand.
This new feature is a Location Inactivity Report, which lists all locations that have not launched their LoyaltyLoop survey in 90 days or more.The email is sent on the 15th of each month, and you can enable it in your Settings in the Alerts & Notification section. The emailed report will only list locations assigned to you.
It's important that all locations engage their customers for feedback regularly to ensure they do not miss a trend in customer satisfaction (positive or negative), as well as ensure customers are engaged in promoting the business via testimonials and online reviews. When you see a location appear on this report, you may be able to help them to get back on track.
In addition, the new Location Inactivity Report, there are three other alerts you can receive from LoyaltyLoop Enterprise.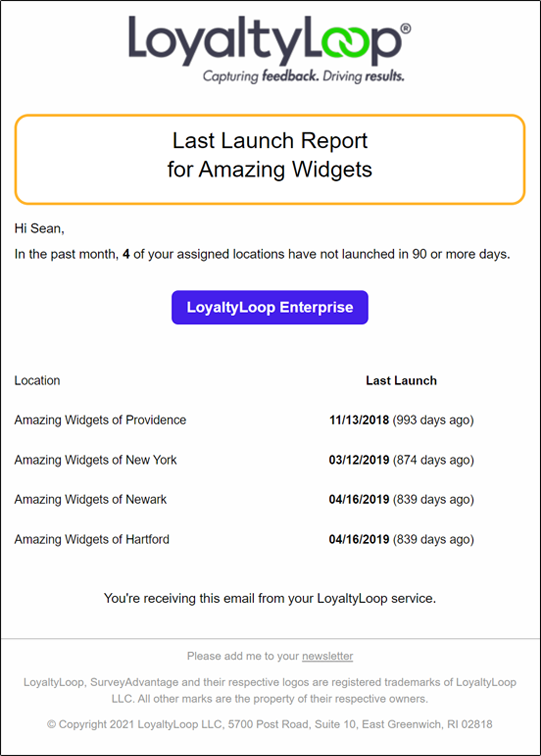 Daily New Feedback Alert
Know when your assigned locations and franchisees have received feedback, and what their results are. Help locations turn feedback into actions. Are they following-up with unhappy customers? Are they following-up with customers who express interest in buying more? Are they promoting their happy customers by publishing testimonials to their website and sharing them with their social media followers?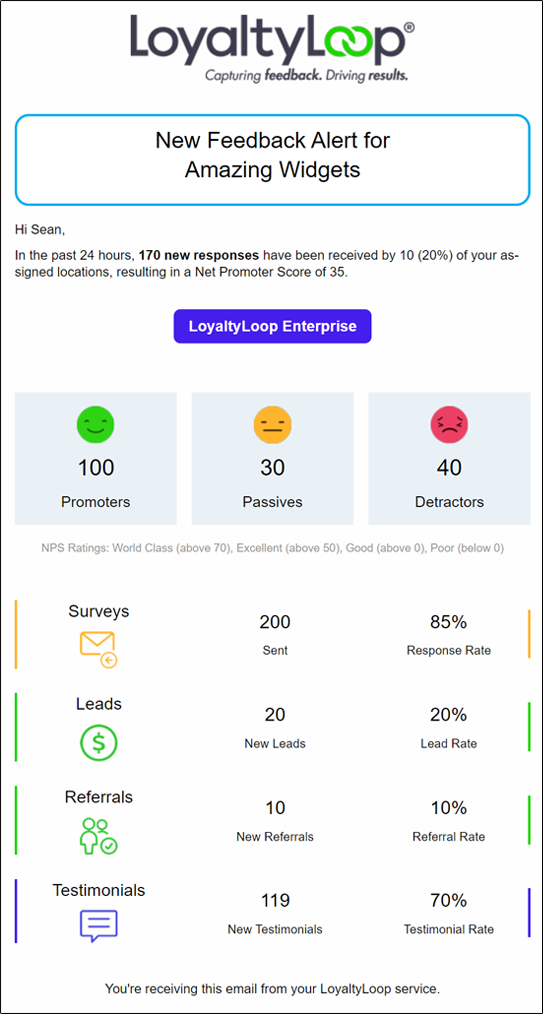 Daily Detractor Report
Get alerted when your assigned locations and franchisees receive neutral to negative feedback. Don't let unhappy customer situations fester. Ensure your locations are following-up with unhappy customers to rectify problems, are identifying continuous improvements for their business, and are mitigating possible 'public shaming' when unhappy customers are ignored and turn to online review sites and social media.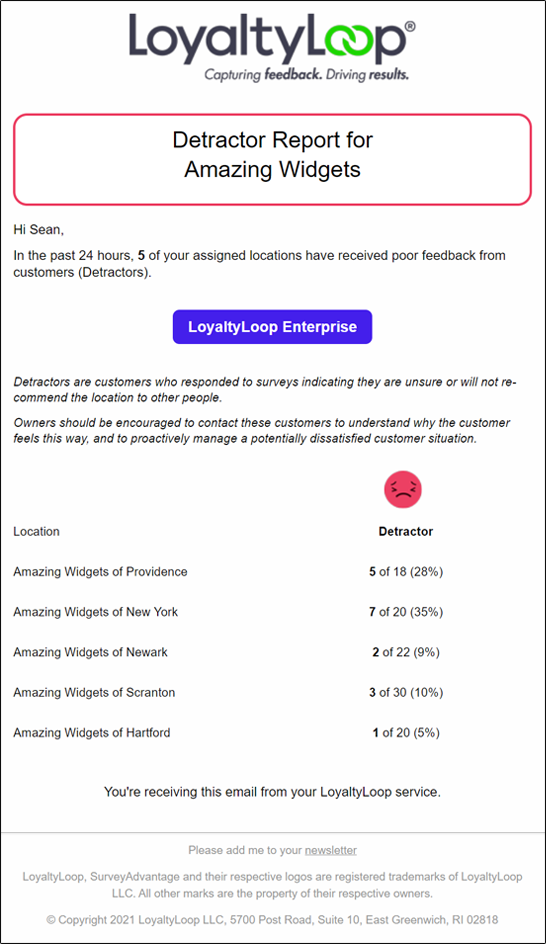 Weekly Summary Report
Receive a weekly summary of how all your assigned locations and franchisees are performing. Are they heading in the right direction to create growing numbers of delighted customers and strengthening your brand?