Industry NPS® Trend Line
This month, we've implemented an Industry Net Promoter ScoreSM trend line in LoyaltyLoop for select industries. This trend line is displayed on the main customer satisfaction and NPS chart on the dashboard page, and is represented as a dashed line. Compare your performance to the industry benchmark, and use it to set goals for your company. This trend line can be toggled on or off by clicking on the trend line symbols above the chart.

Visit your Support Page for Help
Often times, you may have questions when navigating your LoyaltyLoop dashboard. Questions ranging from simple tasks like how to opt-out customers, to building and executing email marketing campaigns. It is important to note all users, both Admin and Standard, have access to the LoyaltyLoop Support page when logged in. This page contains a host of helpful tutorial videos and a direct communication line to our support team. These videos are straight to the point, concise and intended to arm you with the information needed to maximize your dashboard's utility. There are two ways to access your LoyaltyLoop's support page per the following screenshot…

While viewing your support page, you will notice it is comprised of three sections.
Complete list of instructional tutorial videos.
Direct phone line to reach our support department for any technical requests or assistance.
Direct email communication to our helpdesk ticketing system.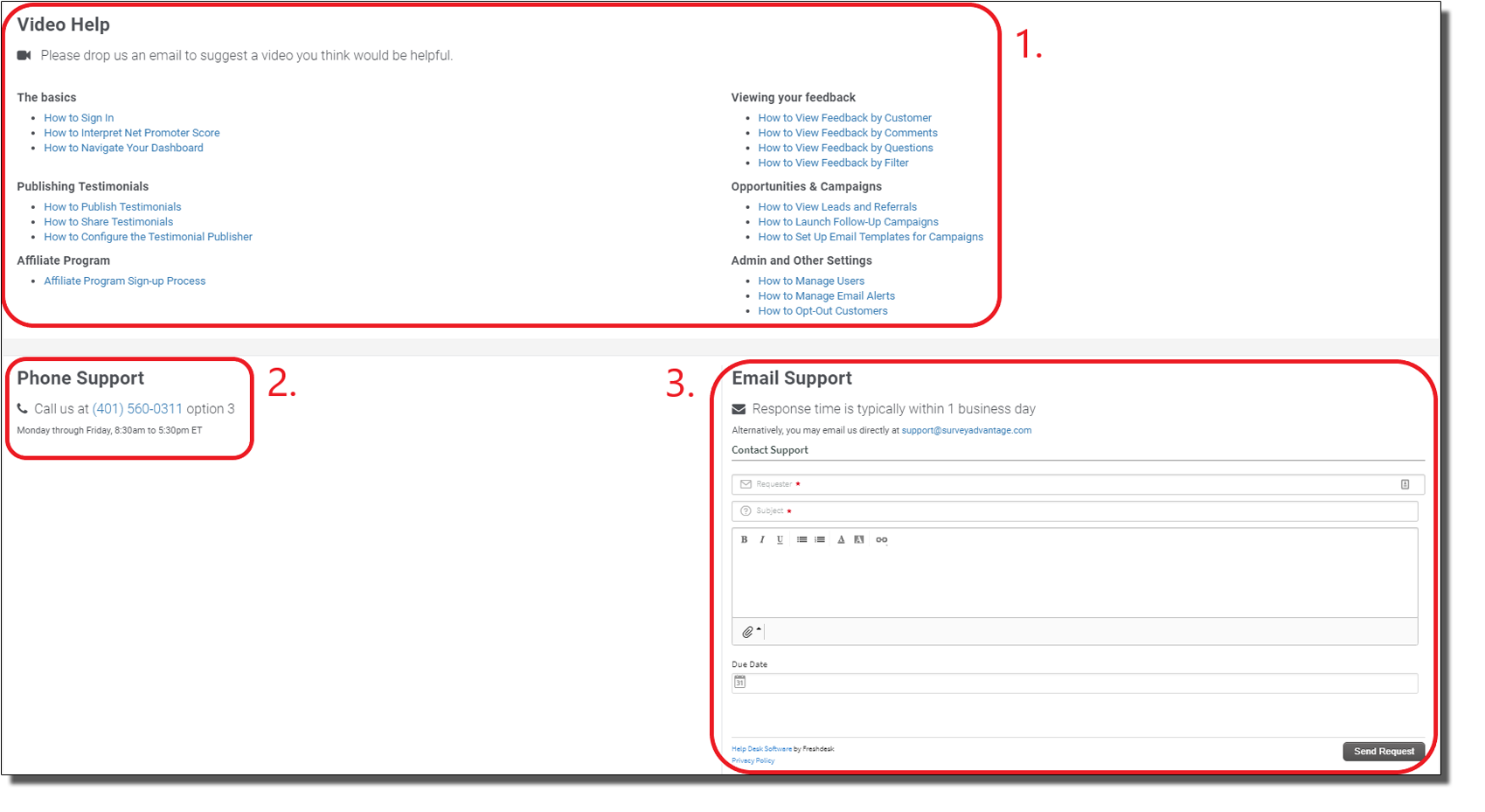 Reduce False Referrals
If your survey was set up before August 2018, and you have the referral question active, you may be interested in this suggestion. The original wording of the referral question asked for your customer's name and email in addition to asking them for their referral's name and contact info. We noticed that this causes 'false referrals', where your customers think they are being asked to provide their name regardless if they provide a referral. All new services set up after August 2018 no longer include the "Your Name and Email" field in the survey. If your service was set up prior to August 2018 and would like us to update your survey to reflect this change, simply email us atsupport@loyaltyloop.com.
NEW FEATURE: Automate with new LoyaltyLoop integration for Zapier
LoyaltyLoop now offers an integration with Zapier! What exactly does this mean for you? In short, Zapier is a third-party tool that allows you to connect over 1,000 different web apps to make the flow of data to, or from, your LoyaltyLoop quick, easy and automatic.
Using our Zapier integration will help you to automate manual tasks of sending data to us, and reach more customers by integrating to your CRM or other systems that contain customer contacts. It will also help you automate the flow of leads from LoyaltyLoop to your CRM, or marketing automation app.
Through our integration you can connect LoyaltyLoop with hundreds of popular applications, from accounting packages, support and helpdesk systems, CRMs, marketing automation, e-commerce and more. For example you can connect to:
To view all the possible LoyaltyLoop integrations, visit our Zapier page. You simply need a Zapier account, and then click this link. or search for in the Apps to use our integration.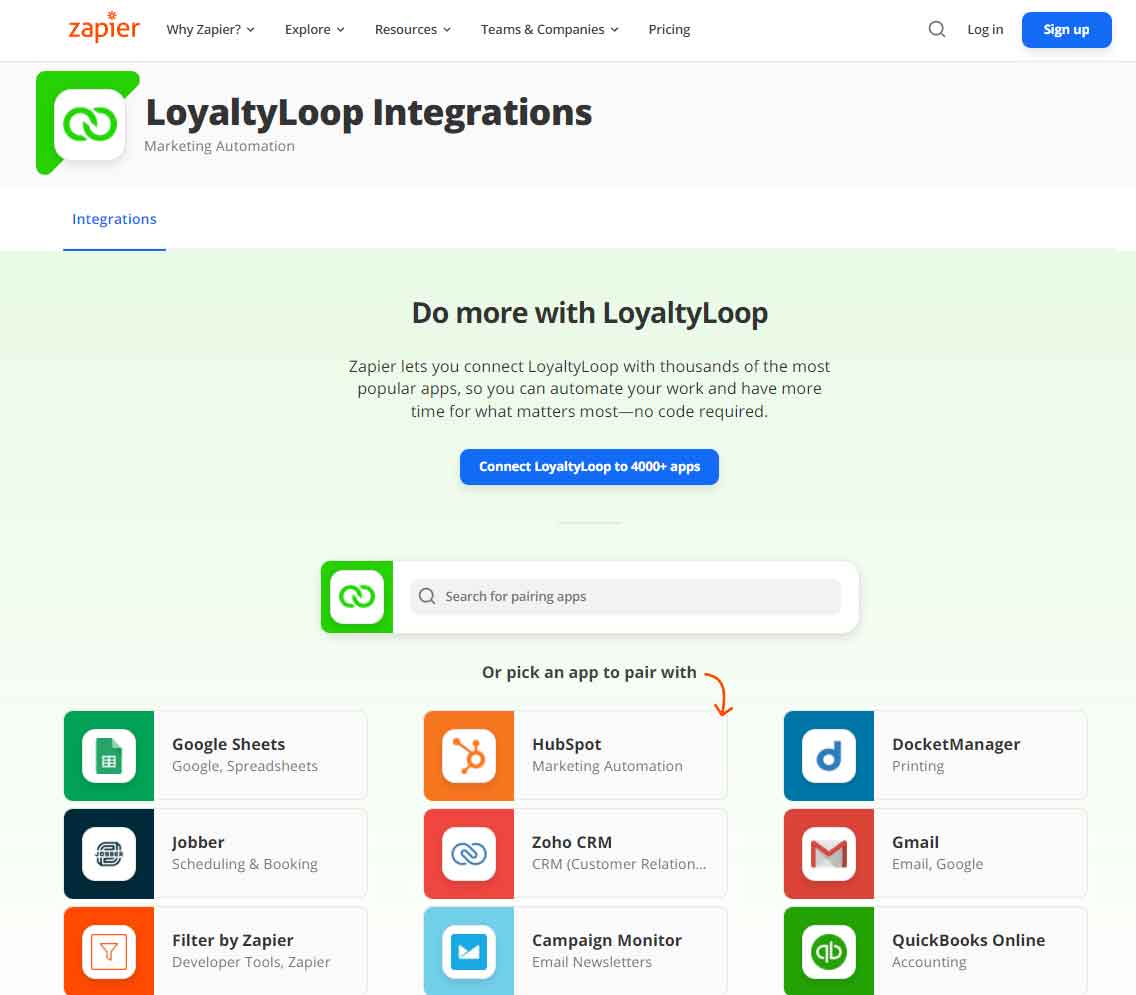 Best Practices for Consideration
Consistently review your survey responses

Depending on your launch frequency (e.g. monthly, bi-weekly, weekly, daily), users should get into a regular habit of logging in to their LoyaltyLoop dashboard and reviewing all recent survey responses via your Feedback by Customer page. Review customer feedback and take appropriate follow-up actions while the feedback is still fresh.

Review the client data associated with your survey responses for greater insight

If you provide additional client data fields in your survey export files, reviewing these customer details will give you even greater insight into each survey response. If you missed it, we review this in more detail in our March newsletter. To view these client details, visit your Feedback by Customer page (1) and click the "expand" icon (2).

Now that you are viewing your survey response's client data, you can use the arrows to step through each survey response. Exposing this data will give you more context and information behind each survey response. In the example below, the client data includes a field for "sales rep".

Use our notifications to drive team behavior

Configure the settings in your Alerts & Notifications page to ensure the appropriate staff are receiving LoyaltyLoop emails (i.e. New Response Notice, Poor Feedback Alert and Weekly Summary Digest Email). Use the receipt of these emails as reminders to take action relative to your customer feedback loop. Educate staff regarding the proper ways to handle negative feedback alerted by Poor Survey Alerts. Use the Weekly Summary as your reminder to review and publish new testimonials. These notifications will allow you and your team to stay on top of your customer feedback.

Monitor your opportunities

Customers who answer "Likely" or "Very Likely" to recommend you will see your product awareness question, which seeks to educate your customers about additional products and services you provide. When a customer indicates interest to items in your product awareness question, this results in warm lead. Additionally, if your survey includes a referral question it will encourage your happiest customers to provide a referral to you, which also results in a warm lead. Remember to follow-up on these leads. All leads and referrals can be found in your LoyaltyLoop's Opportunities section and should be monitored and qualified in a timely fashion. Designate team members to login and follow up with these opportunities on a consistent basis. If you would like to learn how to utilize our custom email templates for opportunity follow-ups, you can watch our tutorial videos via your dashboard's support page, give us a call, or check out prior newsletterposts.

Keep an eye out for Passive survey responses

Customers who are "Likely" to recommend you or choose a 7 or 8 on an 11-point scale, are categorized as "Passives" in your Net Promoter Score calculation. Although it may be fair to say some Passives typically never give top marks, Passives can sometimes illuminate subtle issues. These responses might uncover specific trends or patterns you were previously unaware of (e.g. slow turnaround time, break down in customer communication, high price point, etc.), and could be of great value. In response, you should be actively trying to convert these Passive customers into loyal Promoters who will advocate for you. It is also possible to include passive survey responses in your Poor Survey Alert settings to notify you in real time.
HOW TO: Manage Payments and Billing Details in LoyaltyLoop
From time to time our credit cards need updating. Did you know you can securely update your credit card directly from your LoyaltyLoop account? You can also get copies of past receipts for your records. All billing information is available to any LoyaltyLoop User with Admin rights. Of course, we're still just a phone call away if you prefer to call us when card updates are needed. Here's how to access your billing details directly.
Sign in to LoyaltyLoop using your Admin User account
Click your Username, then settings
Click Billing & Payments found in the Admin section (only Admin Users will see this section)

Help your customers and create new profit center
Offer the benefits of LoyaltyLoop to your customers to help them become more customer-centric, and generate a new recurring profit center for your business. Check out our new Affiliate Program.