Managing Your Email Templates
Responding to feedback in a timely fashion can be tough to prioritize throughout your busy day. Whether you're making personal phone calls to customers, or drafting up individual emails, follow-up communication can be time-consuming. LoyaltyLoop, is here to help.
Within the Campaign feature of LoyaltyLoop promoter plan, you'll find customizable email templates that when used will expedite follow-up with your customers. A few great examples of using email templates is when you want to generate a Campaign to engage your new survey respondents who expressed interest in buying more/other services from you, or if you want to send a Campaign to select customers to request they post a review online about your business. If you don't have time to respond to each customer individually, or are short-staff, you will benefit greatly from using email templates in our Campaign feature.
To create email templates, click on your username then click on Settings. Under the "Marketing" section you'll see Email Templates where you can use dozens of pre-written templates or you can create their own when selecting "Manage My Templates". It is important to provide relevant information (i.e. hyperlinks to website pages or quote forms, company expertise regarding the service of interest, etc.), but to not overwhelm the customer with information. Email templates should be concise, focused and be somewhat personal, remember these are your customers! Once you have created a range of templates that cater to various services listed on your survey, you can begin responding to your leads promptly.
Step 1: Choose the desired lead from your opportunities page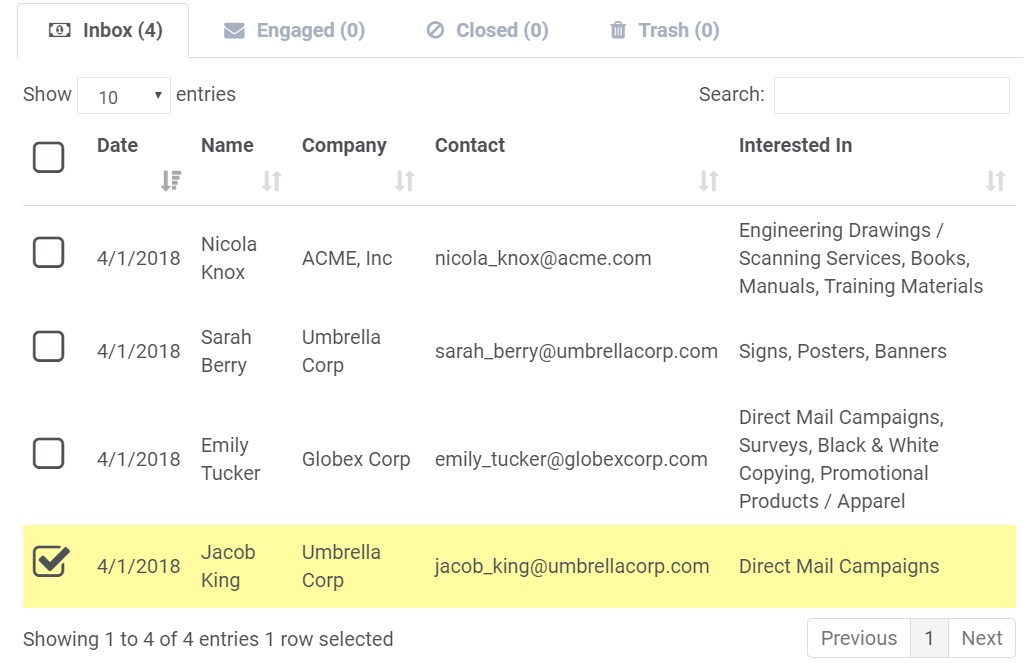 Step: 2 Select "Start Campaign"

Step 3: Choose appropriate template and send!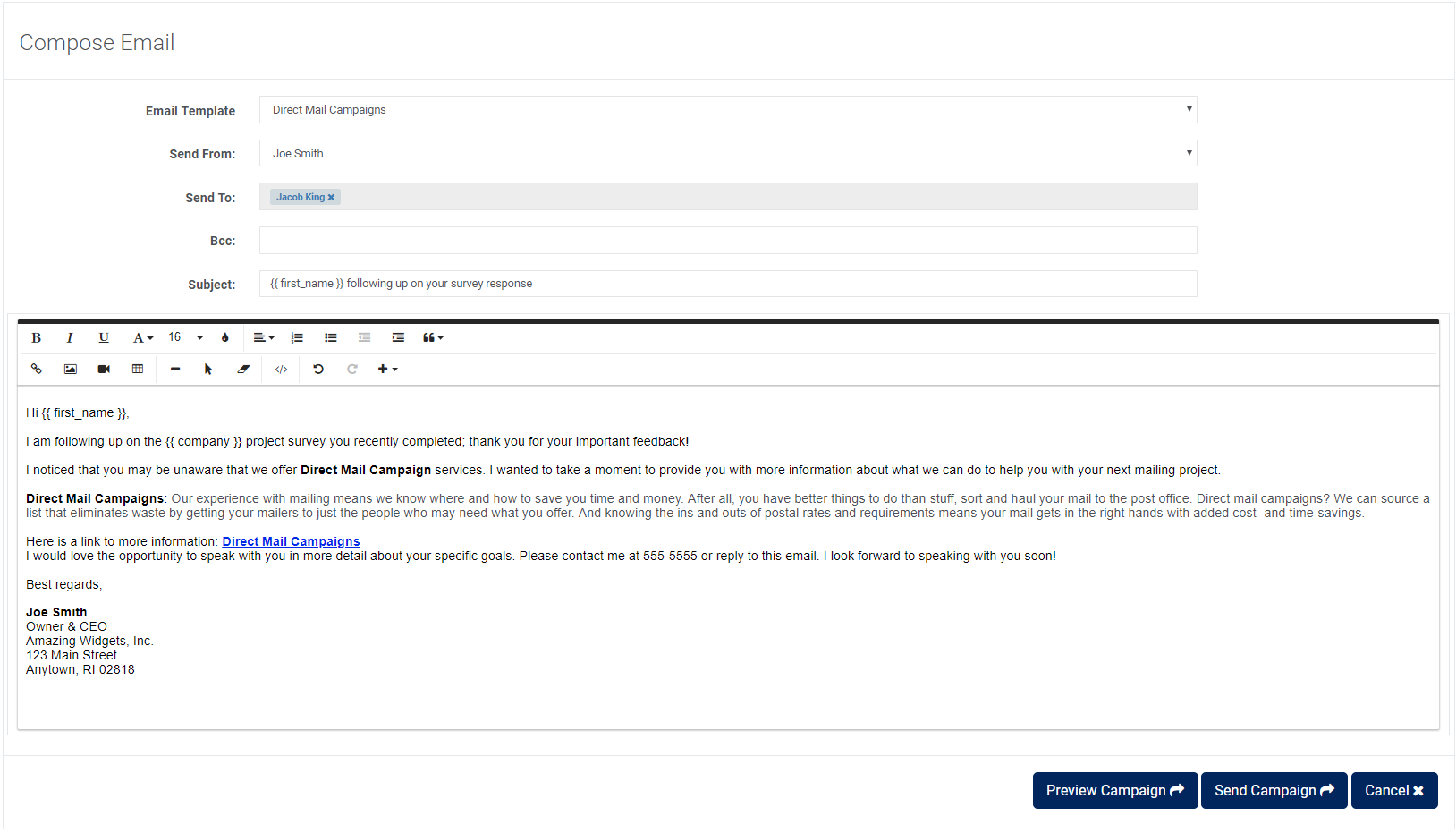 Execute Follow-Up Campaigns by Respondent
As of July, LoyaltyLoop promoter plan subscribers can now generate follow-up campaigns right from the Feedback section of your dashboard. Prior to this update, campaigns could only be executed on behalf of captured opportunities (referrals and leads as mentioned previously). Owners can now utilize this campaign tool to...
Quickly send 'thank you' messages to survey respondents
Reply to common customer questions without exiting your dashboard
Follow-up with all 'passive' customers, or personally ask select customers to post an online review for you
Request online reviews from some of your most loyal customers can be a targeted approach to driving your online search rankings.
When start a campaign, click Feedback from the left main menu. You'll land on your Feedback by Customer page. Select the customers you would like to engage, click the "Start a Campaign" button, choose one of your email templates or merely personalize the message, schedule and send. These are just some of the ways to use the Campaign feature in LoyaltyLoop promoter plan to help you engage your customers to build stronger relationships.
Social Media Share Functionality
Every once in a while, you'll enjoy feedback from customers that perfectly capture the wonderful experience you provide. Their voice can be a powerful medium for attracting and reaching prospective customers who are considering doing business with you. In addition to publishing the customers testimonial to your website, LoyaltyLoop promoter plan allows you to share select testimonials with your social media followers.
The social media share feature works great for unique customer comments you feel worthy of being shared across your company's social media. Users will first want to access their dashboard's Testimonial section to view all their approved customer comments. Review and decide which testimonial you wish to share, and then click the share icon on that row all the way to the right of the page. Users can then personalize the post with comments of your own and choose which social media platform on which to share it.
Ideally, owners should share these comments on their company social media pages, rather than your personal social media pages. Driving meaningful content to your business LinkedIn page for example, will help strengthen your business's overall online presence. LoyaltyLoop's share feature serves as another tool in your marketing arsenal, helping to disseminate online content across your various media platforms.
Got Cascading Style Sheets (CSS)?
Similar to LoyaltyLoop's predecessor, you can now incorporate custom CSS into your published testimonial format that appears on your website. Users will simply access their testimonial settings page, and begin implementing their code in the "Custom CSS" box. Custom CSS script can add a personalized element of styling to your customer testimonials.
New Affiliate Program! Coming later this month!
Would you like to build a recurring profit stream? Would you like to offer the benefits of SurveyAdvantage's LoyaltyLoop services to your customers without the overhead of maintaining and supporting the customers? Coming later this month, SurveyAdvantage will be rolling out our new Affiliate Program to help you do just that!
The Affiliate Program allows you to offer SurveyAdvantage's LoyaltyLoop service to your customers at our regularly published prices and earn ongoing recurring commissions with little-to-no ongoing effort and expense. This is yet another way for you to benefit from your relationship with us and create added value for your customers. As an Affiliate, you're only responsibility is to help your customers understand the value of LoyaltyLoop and direct them to sign-up via your SurveyAdvantage Affiliate Form. Since you're already enjoying our services, helping your customers understand the value should be easy. But you're not alone in the selling process. Should you need help with larger customers or more complicated sales situations, your SurveyAdvantage team is ready to help, including giving web demos.
The key ingredient to the Affiliate Program is your unique SurveyAdvantage Affiliate Form. This form must be placed on your website, and only those customers who sign-up to LoyaltyLoop via your form qualify you to earn Affiliate payments. Once your customer has signed-up, there is a clean hand-off to SurveyAdvantage to manage everything else from that point forward. We handle the service setup, any customizations, all training, phone and email support, billing, and everything else. You will earn a commission of 10% of the fees we collect for each customer who signs-up through your Affiliate Form - for as long as that customer is subscribed! Watch for other emails and announcements regarding the official availability of the Affiliate Program.
LoyaltyLoop "How To" Videos
Later this month you'll find a host of new, short (1 to 2 minute) "How To" videos appearing on the various pages throughout your LoyaltyLoop dashboard. These videos have been designed to answer questions regarding how to do something specific within the new LoyaltyLoop interface. We've keep them short and sweet and right to the point. If you don't see a video that you think would be helpful to you and others, please feel free to drop us a note with your suggestions.
LoyaltyLoop Migration Status
We are well into the migration of all customers over to LoyaltyLoop. There is no cost to migrate, and there is nothing you need to do. For additional details please visit our migration page. Here is the general migration order:
March through July: Subscribers of...
CustomerPulse with Marketing Module with a single location accounts will be migrated to LoyaltyLoop promoter plan
August through October: Subscribers of...
CustomerPulse with Marketing Module multi-location (and multi-survey) accounts will be migrated to LoyaltyLoop promoter plan
CustomerPulse (base service) accounts will be migrated to LoyaltyLoop basic plan
Corporate dashboards will be migrated to updated corporate dashboards
Per the migration process outlined in our migration FAQ page, be on the lookout for your company's migration date email.