Easy Sales Growth Opportunities
In business, there are few problems that cannot be solved with more sales. But are you managing your sales opportunities? If you're using LoyaltyLoop Promoter plan, have you delegated the opportunities to your sales team that are being automatically generated from your survey? In LoyaltyLoop, click on "Opportunities". Immediately, you're presented with sales leads and referrals your existing customers have given you.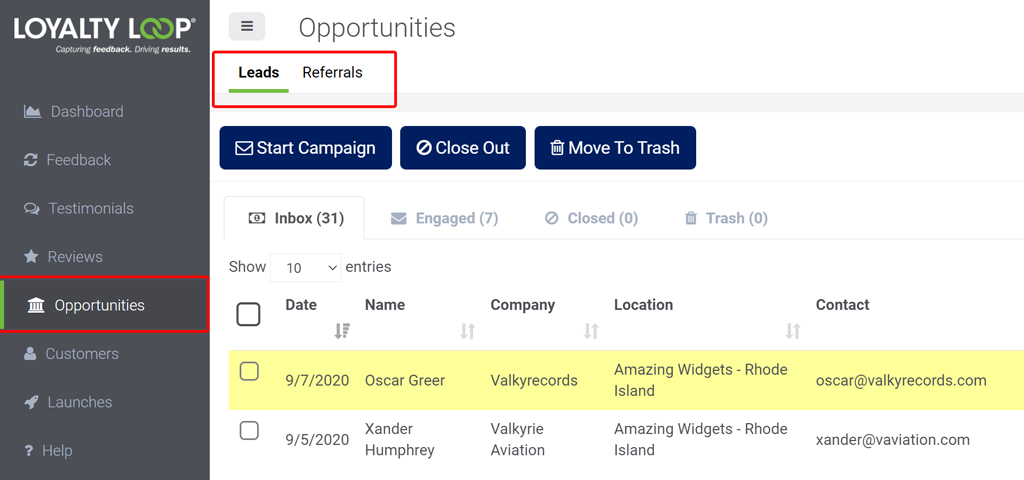 Don't let these opportunities grow stale; make sure your sales team follows up on each one. Let your customer know you've heard their interests and are ready to assist them. These are the easiest sales calls you have to make since the opportunities are from customers who know you and love what you do!
Split the leads among your sales team so every one is acted upon before your customers go elsewhere. Reach out to them via phone or using the Campaign feature in LoyaltyLoop. If you use a CRM or other marketing automation tools to follow-up on leads, export your LoyaltyLoop leads so you can import them into the system you use, or look on Zapier to see if there is a LoyaltyLoop Integration available to connect your CRM to LoyaltyLoop so the leads can flow automatically into your CRM. Remember, once you act upon a lead in LoyaltyLoop, close it out so you can tell at a glance that each one has had follow-up.
For assistance with the Campaign feature and email templates, give LoyaltyLoop Support a call and we'll be glad to walk you or your sales team through the process.
Under the Referrals tab, you can find new contacts your customers have provided. Reach out to them, open the conversation by letting them know who referred them to you. Tell them how you've been helping out the person who referred you, and explore if you can help them too. Add them to your newsletters and include them in your marketing. Lastly, if this prospect becomes a customer, remember to thank your customer who made the referral.