New Feature
Dynamic scale on Customer Experience (CX) trends
When viewing your Customer Experience (CX) charts on your dashboard, the charts display trend lines. You may have a trend line for your industry, or peers. The scale of each CX metric is either from -100 to +100 for Net Promoter ScoreSM (NPS®), or 0% to 100% for Customer Satisfaction Score (CSAT) and Product Quality Score (PQUAL).
Depending on your company's specific results, you may wish to view these trend lines in a narrower scale range so you can more easily see the variation from month to month.

To aid in viewing your trends, we've added a feature to display the trend lines using a Dynamic scale, or the Full scale, by clicking the highlighted scale button shown above. Once you set a scale choice, LoyaltyLoop will remember this setting when you sign in the next time.
Full Scale Trend Line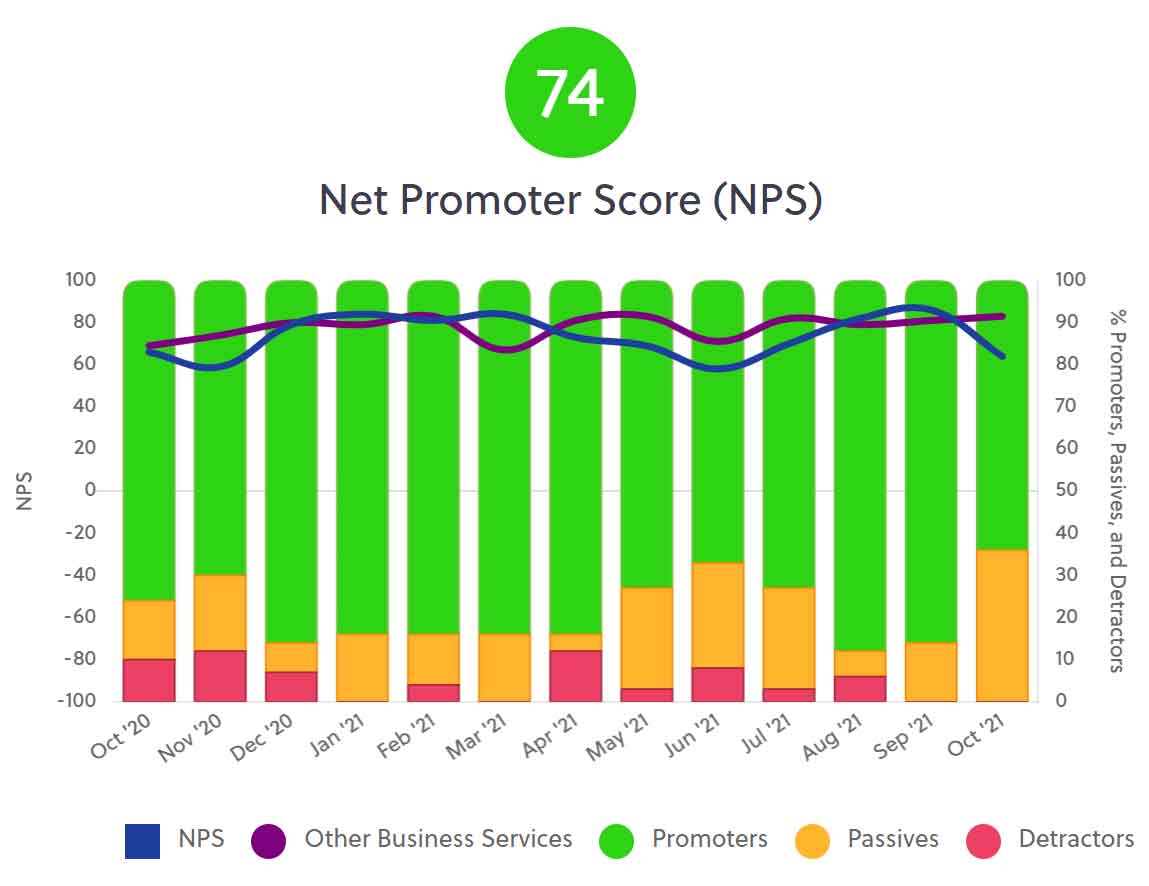 Notice the trend line scale (i.e. the left scale) ranges from -100 to +100, making it difficult to the see the variation in Net Promoter Score.
Dynamic Scale Trend Line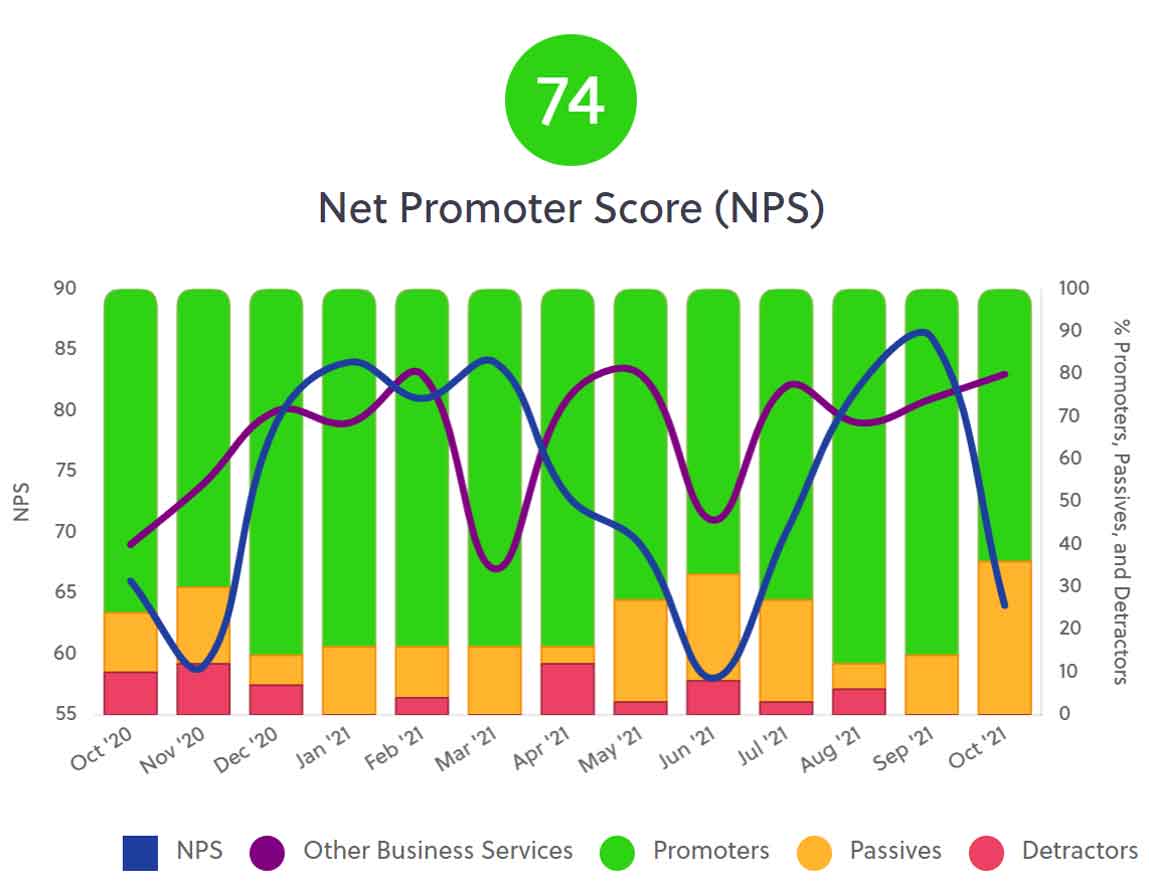 But when setting the scale to Dynamic, notice the trend line scale is now constrained to the values of the trend and range from 55 to 90. This allows you to more easily see variation in your NPS.
Tip
The Numbers Game
Collecting feedback is a numbers game. The more feedback you solicit, the more you receive.
Make sure you send LoyaltyLoop to all your contacts who have had a transaction with you, even if they exist in multiple systems. When you send data from multiple systems, LoyaltyLoop will automatically de-duplicate contacts so we don't ask the same person for feedback multiple times in the same survey window. It's best to reach out to as many customers as possible in order to get the broadest customer perspective of your business. Doing so will help you improve, expand, and focus on exceeding your customers' expectations. And the more customers who take your survey, the more customers will be encouraged to post a Google review.
Also, keep in mind that you may have a filter configured when your launch file is processed. You may filter out those who purchase under a certain dollar amount, or perhaps you filter out walk-ins, if you have a retail storefront.
For example, don't devalue the feedback of apparent one-time customers, it can be as valuable as the feedback of any other customer. And most importantly, you have the opportunity to turn them into loyal customers. Consider, as well, one-time customers provide you with the opportunity to receive feedback from a pair of fresh eyes who are using your business for the first time, and requesting their feedback can encourage them to return.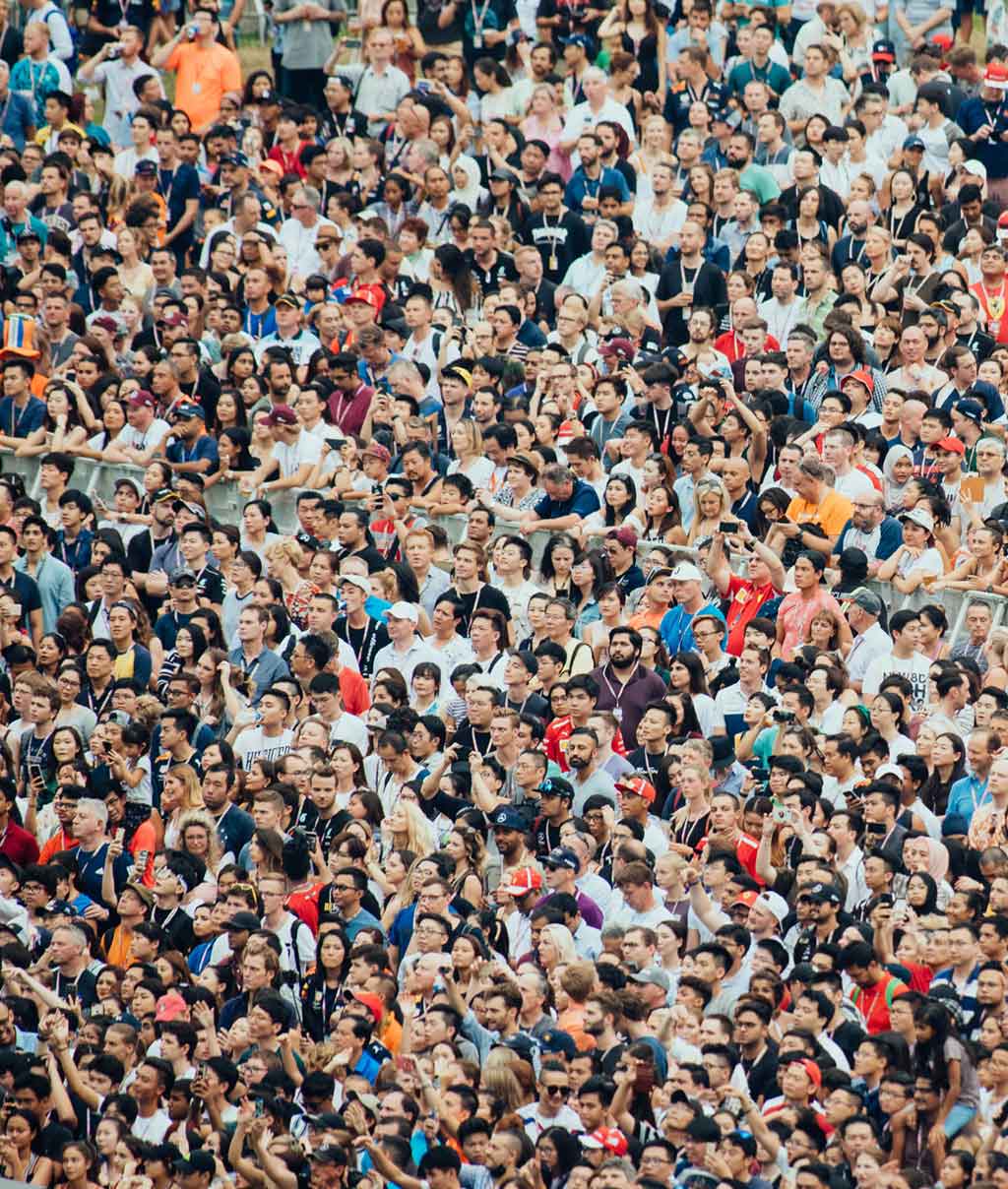 Photo by Chutter Snap on Unsplash
Take a look at your opt-out list on LoyaltyLoop. Can someone be opted back in? Perhaps they were opted out temporarily by request? Or maybe they were opted out because they already provided feedback verbally or via some other means, and you thought an email invite was overkill? Log into LoyaltyLoop and view your customer list. Use the pull-down menu in the upper-left to show only opted-out customers. Read through your list, and if anyone should receive invites for transactions in the future, click on the person icon to the right of their details. If you would like to remove a domain opt-out, click on the "Opted out Domains" tab, click the box next to a domain, then click on the button "Remove Domain Opt-Out".
If you filter on dollar amount (i.e., removing customers who made a purchase below a threshold) you may be missing out on the feedback of an already loyal customer. Or perhaps you may fall into the trap of believing their small purchase isn't worth the time for collecting feedback, when in reality they could be impressed that you value their feedback even when very little money has been spent.
And remember these Promoters will also see the link to your Google Reviews page so you can collect even more reviews! Contact support at support@loyaltyloop.com or by calling us directly to make sure there are no filters, or remove filters that are in place so you can collect all of your feedback! 
Tip
How to opt out a contact from LoyaltyLoop requests
From time to time you may have certain contacts request not to receive your survey. This tip will explain (1) how you can opt-out individual contacts by opting-out 1 or more contact email addresses, and (2) how you can opt-out all email addresses from a domain, both those that exist in LoyaltyLoop now and any new contacts that get added in the future.
Opt-Out Contacts Already Surveyed
If your contact has already received your survey, then the easiest way to add them to the opt-out list is to click on Customers from the left main menu. Search and find the contact or contacts you wish to opt out and click the checkbox next to their name. Notice the top menu provides 2 options: Opt-out, and Opt-Out Domain. If you wish to opt out just the selected contacts, click Opt-Out. If you wish to opt out all contacts from the domains selected, both those that exist in LoyaltyLoop now and any new contacts that get added in the future, click Opt-Out Domain.
Watch how to opt-out contacts
If you need to watch it again, this video and many others, can be found by clicking Help from the left main menu in LoyaltyLoop.
Opt-Out Contacts Not In LoyaltyLoop Yet
If the contact does not yet exist in LoyaltyLoop, you can pre-emptively opt out a single email address or any entire domain so LoyaltyLoop does not survey them should they appear in your survey launch list in the future.
To pre-emptively add an opt-out for a single email address, click the plus (+) icon in the upper-right corner of the customer table listing. Enter the email address you wish to opt out (and any other contact details if desired) and make certain the Status is set to Opt-Out. To pre-emptively opt out any contacts from a domain, click Opted out Domains from the top menu, then click the plus (+) icon in the upper-right. Enter the domain and click save. To see your opt-out list, click Customers from the top menu and change the pull-down menu from All to Opted-Out. All contacts opted out individually or as a domain, will appear on this list. To view all of your customers again, use the same pull-down menu to select All.
It is our recommendation to only opt out customers who specifically ask to be removed from future surveys. It is important to gather feedback from as many customers to ensure you're getting a full picture of customer attitudes and sentiments
Learn
Maximizing Customer Reviews
Part 8: Encouraging Online Customer Reviews
Don't Create Reviews About Yourself
Customer reviews have come a long way (see Section 'History of Reviews') over the years. Gone are the days of feedback cards that disappear and get absorbed into a business when you drop them into that opaque and mysterious suggestion box. Today, customer online reviews are posted on the Internet for all to see.
When customer reviews started to move online, there were few, and even less enforceable, regulations around false customer reviews. This left the playing field wide open for scammers, internet trolls, and bitter competitors to write negative reviews. You know what they say, 'don't believe everything you read on the Internet.' For a time, this definitely applied to online customer reviews. However, review platforms today have cracked down on false and misleading customer online reviews. Companies like Google, Amazon, Yelp, and others institute and strictly enforce regulations on customer reviews (you can see their specific guidelines at the end of this section).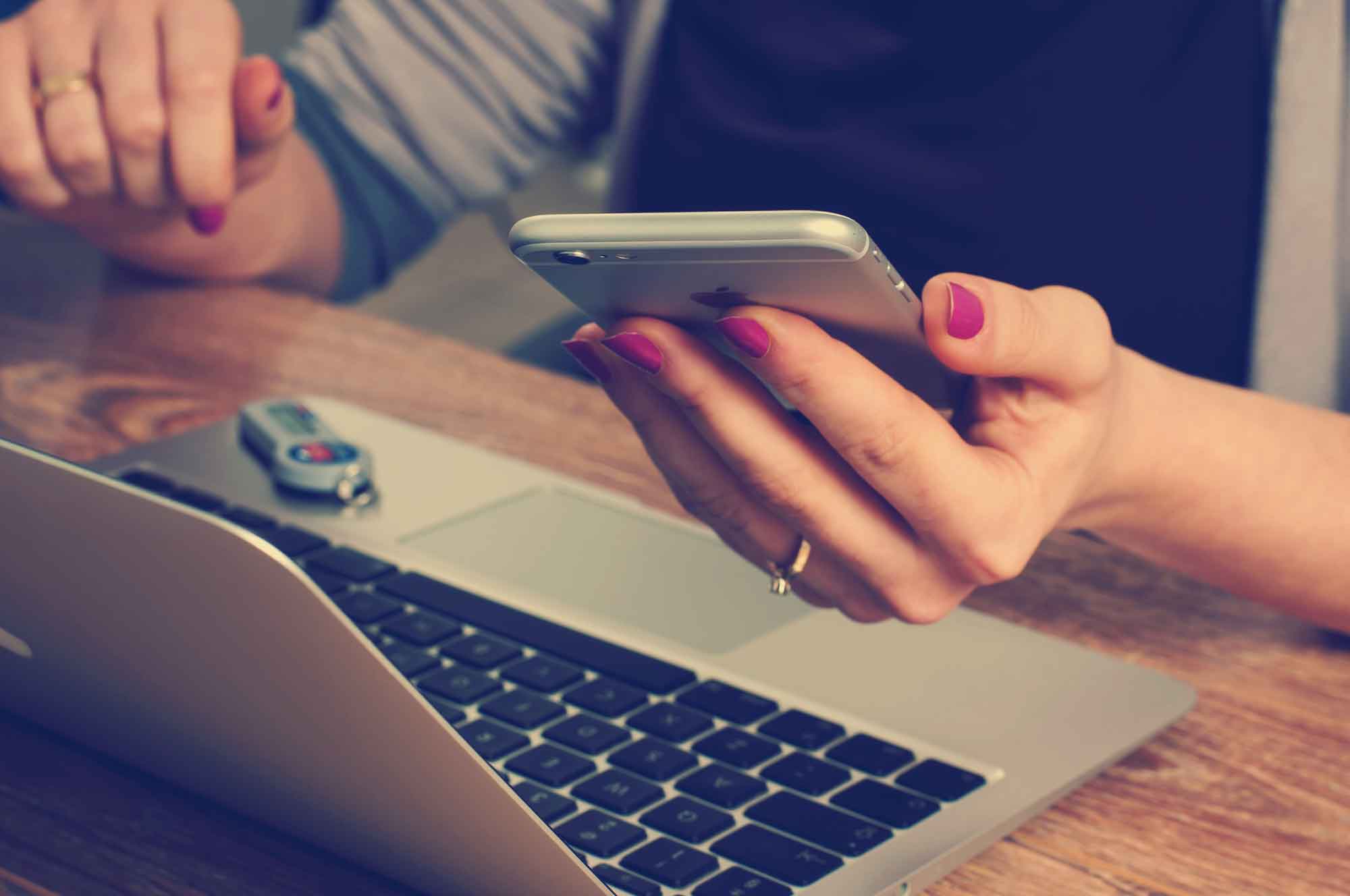 Photo by Firmbee.com on Unsplash
A warning.
In addition to knowing that competitors should not write false negative reviews, hopefully you already know that manufacturing positive reviews for yourself is just as unethical. Do not ask your employees, friends and family to write you a good review (especially if they haven't even tried your product!). Scammers will claim to generate five-star reviews for your business. Ignore them, they are the same ones who will 'buy' Instagram followers for you (also a big no-no!). Review platforms can detect these false reviews and penalize you, in addition to the scammers. And yes, in addition to being unethical, it is also illegal to manufacture false reviews. The Federal Trade Commission (FTC) is charged with protecting America's consumers and has settled cases in regards to deceptive rankings practices and fake reviews. For information about the laws surrounding online advertising and marketing, please visit the FTC's website.
Only your customer can post their review – no one else can post a review on their behalf. Anyone telling you otherwise is lying. Encourage online reviews but leave the review writing to your customers. Don't like the reviews they are writing? Listen to their feedback and provide better service.
Some online review regulations for reference:
Amazon
The following are types of reviews that we don't allow and will remove:
A review by someone who has a direct or indirect financial interest in the product.
A review by someone perceived to have a close personal relationship with the product's owner, author, or artist.
A review by the product manufacturer, posing as an unbiased shopper.
Multiple negative reviews for the same product from one customer.
A review in exchange for monetary reward.
A review of a game in exchange for bonus in-game credits.
A negative review from a seller on a competitor's product.
Google
Google My Business reviews are automatically processed to detect inappropriate content like fake reviews and spam. We may take down reviews that are flagged in order to comply with Google policies or legal obligations.
Spam and fake content
Off-topic
Restricted content
Sexually explicit content
Offensive content
Dangerous & Derogatory Content
Impersonation
Conflict of Interest
Yelp
If you see a review that you believe violates Yelp's Content Guidelines, please report it and include any information that can help us verify the information. Yelp is a community-driven site, and removing photos, reviews, or other user content is not something we take lightly—we generally allow users to stand behind what they write. It's also important to keep in mind that Yelp doesn't take sides in factual disputes.
Yelp uses an automated software to determine which reviews to recommend to users. Even if our moderators don't remove a review, the software may separately determine that it's not reliable enough to recommend to Yelp's users.
Learn
Maximizing Customer Reviews
Part 9: Handling & Responding to Negative Online Reviews
It's bound to happen.