New Feature
NEW - Clickable Campaign Statistics
View the details of your launches and email campaigns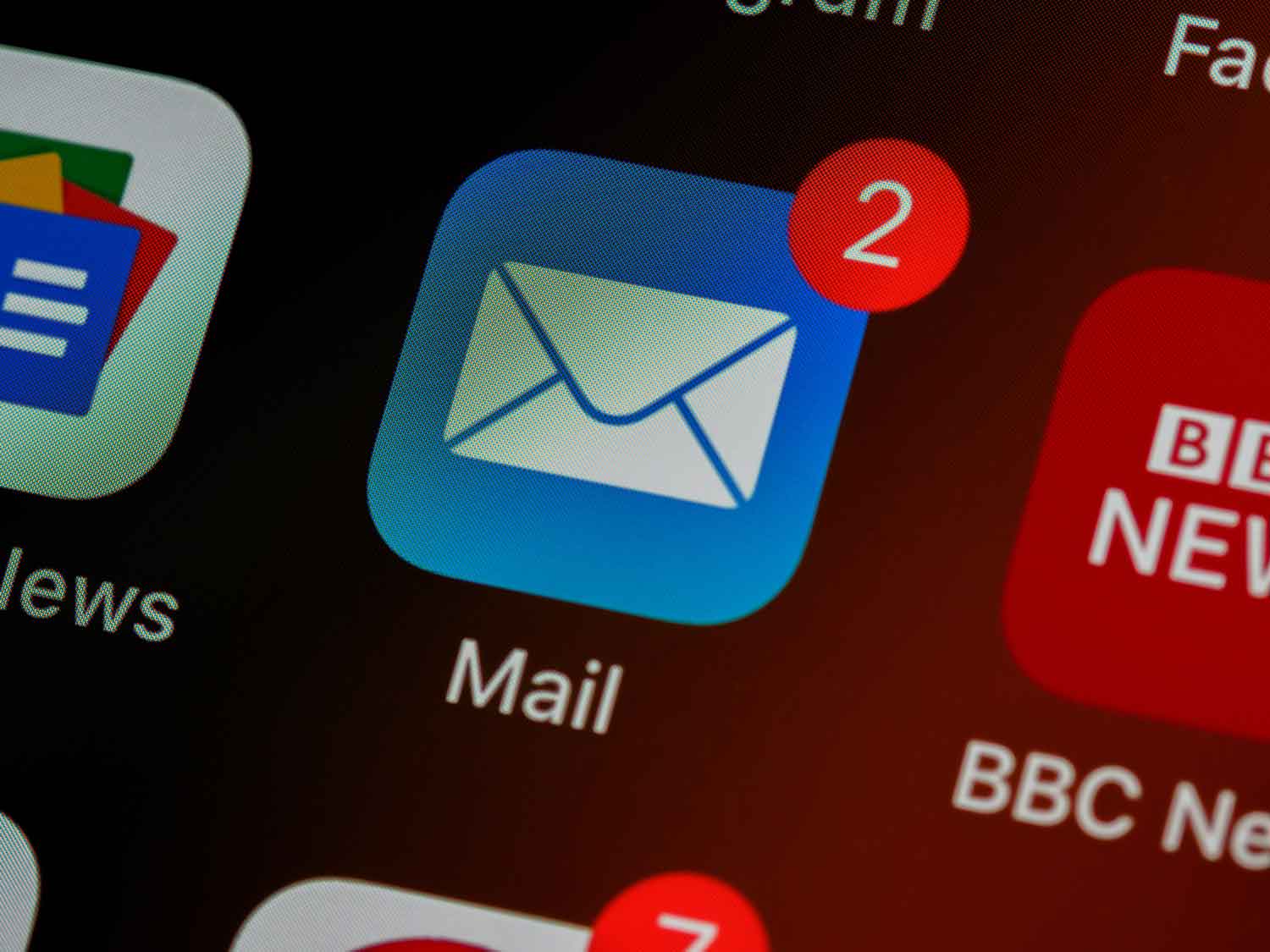 Photo by Brett Jordan on Unsplash
We've released a new enhancement to the Campaign feature in LoyaltyLoop. You can now drill into the details of your LoyaltyLoop Campaigns and see your contacts who had undeliverable email addresses, who was delivered your emails, who opened them, and who opted out from them.
Click the Launches tab from the left main menu (1), then click the "Campaign History" tab on the top menu (2). Here you'll find a listing of all of your campaigns; comprised of Survey Launches, Survey Reminders, Social Media Follow Ups, and Email Campaigns. By clicking on the numbers in the tables (3), you can view the contacts in each category: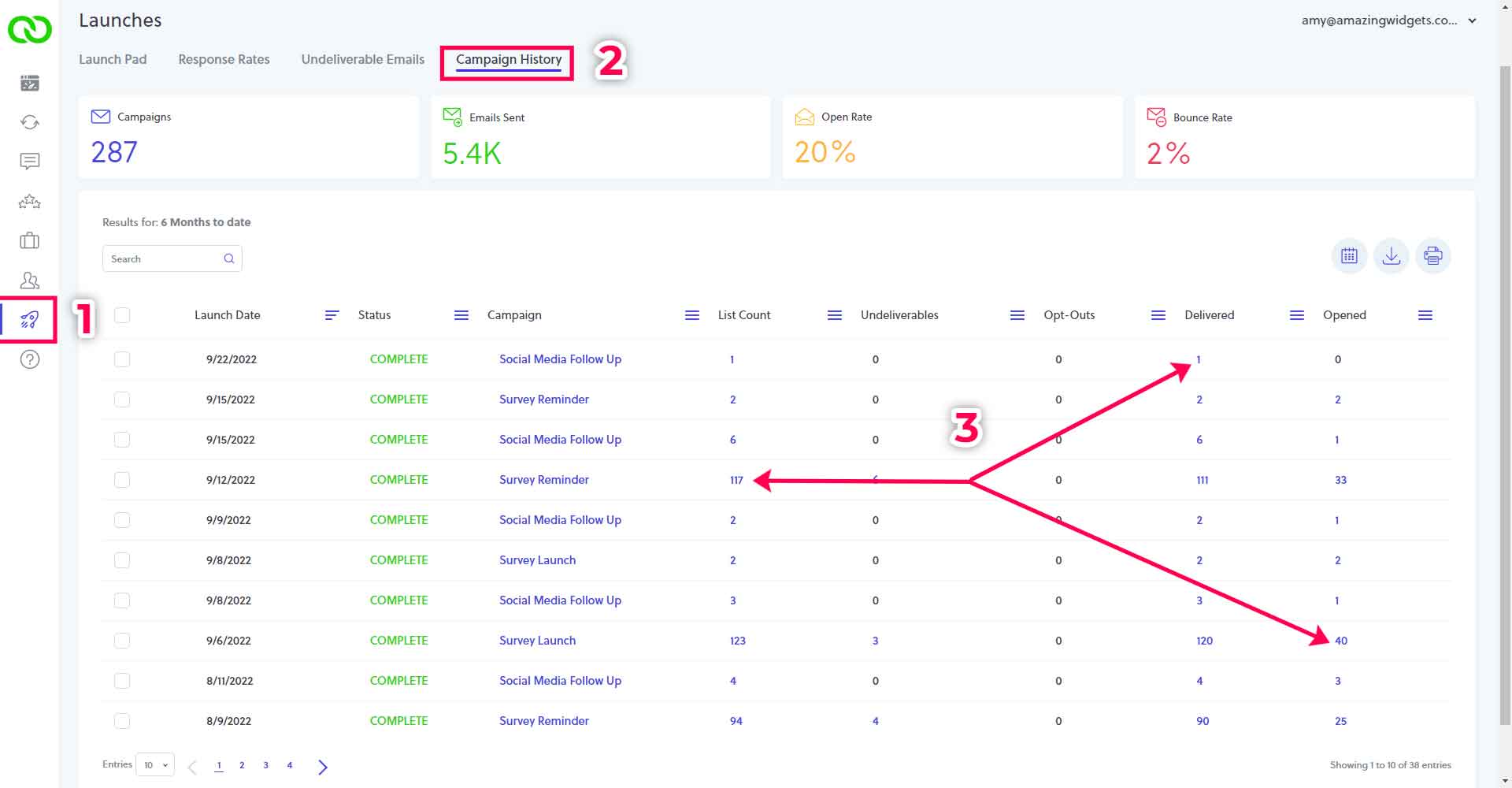 1 You can see who was on the initial list and by clicking on the number in the "List Count" column, and you can see their details in the right-hand preview pane by clicking each individual row.
2 Click on the number under "Undeliverables", if there is a clickable number, to see the emails that had issues when sending. Check the email addresses to see if any contact information in your system of record needs to be updated.
3 If you click on a number under "Opt-Outs", you can see who on the list has been opted out since the emails were sent.
4 The number under "Delivered" will show you the list of contacts for whom emails have been successfully sent.
5 And lastly, the number under "Opened" will show you those contacts who opened your email, or the email client indicated it was opened.
Learn
Bad Temptations with Google Reviews
Tip
Using your Google Review link
There's been a change to the way Google formats your review URL and where to find it. As always, LoyaltyLoop surveys are a great way to automate the process to get Google reviews, but if you wanted to distribute it yourself, we want to help you obtain it.
Get Your Google Review Link from LoyaltyLoop
If you're a subscriber to the Promoter Plan, simply go to your Settings and then click on Review Sites in the Reviews section. Then, right-click on the Test button, and then click "Copy link address" in your browser menu. Your Google Review link is now copied to your clipboard. Paste the link to save it in a document or other location for use in the next steps.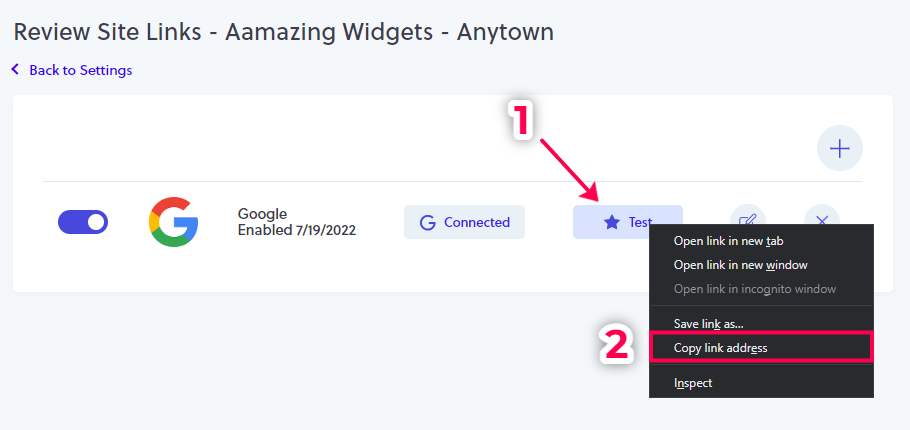 Get Your Google Review Link from your Google Business Profile
(1) Sign in to Google using the account you use to manage your Google Business Profile. Click the Google Apps icon (3x3 dot icon in upper right), and then click the Google Business Profile icon. Or, go to Google Maps and search for your company (while signed in with the Google account you use to manage your Google Business Profile), and click "Manage your Business Profile".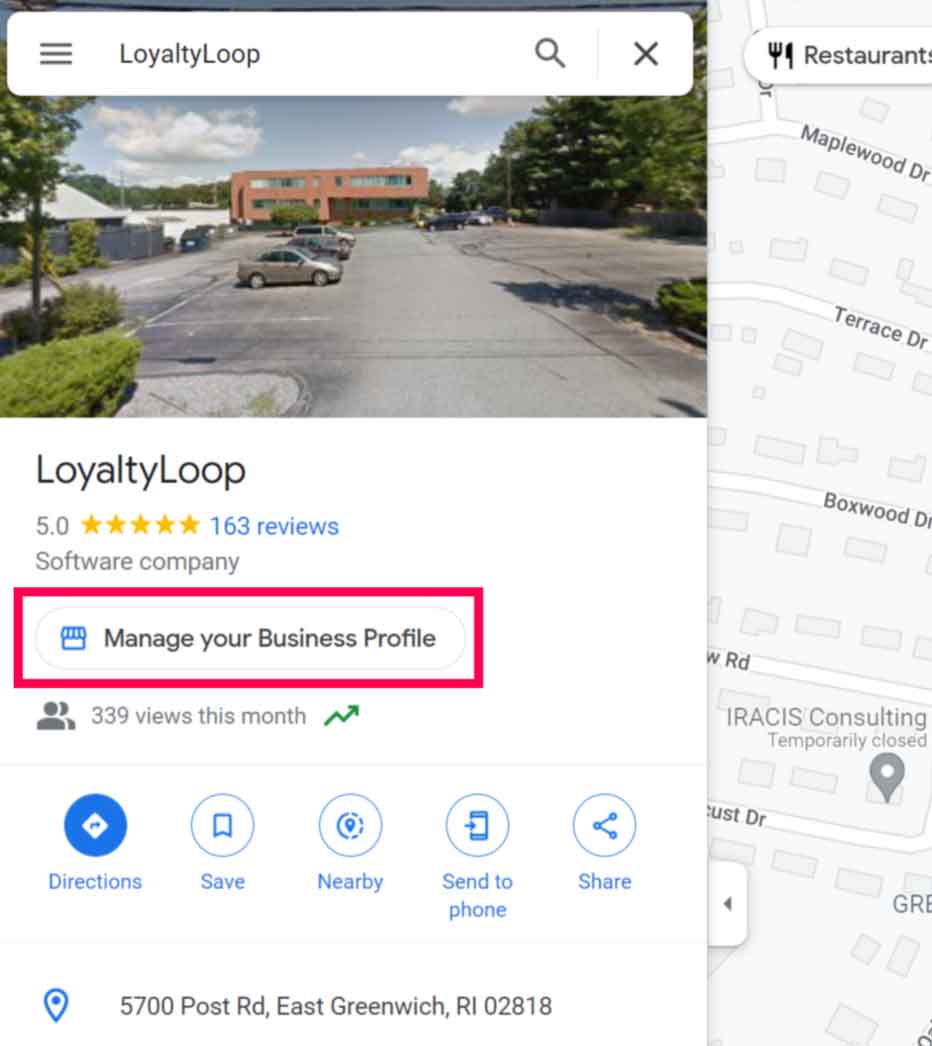 (2) In either case, Google will open your Google Business Profile as seen on Google. However, since you're signed in with the Google account you use to manage your Google Business Profile, you will see a special section on the page called "Your business on Google". Look for the section that says "Get more reviews" and click it.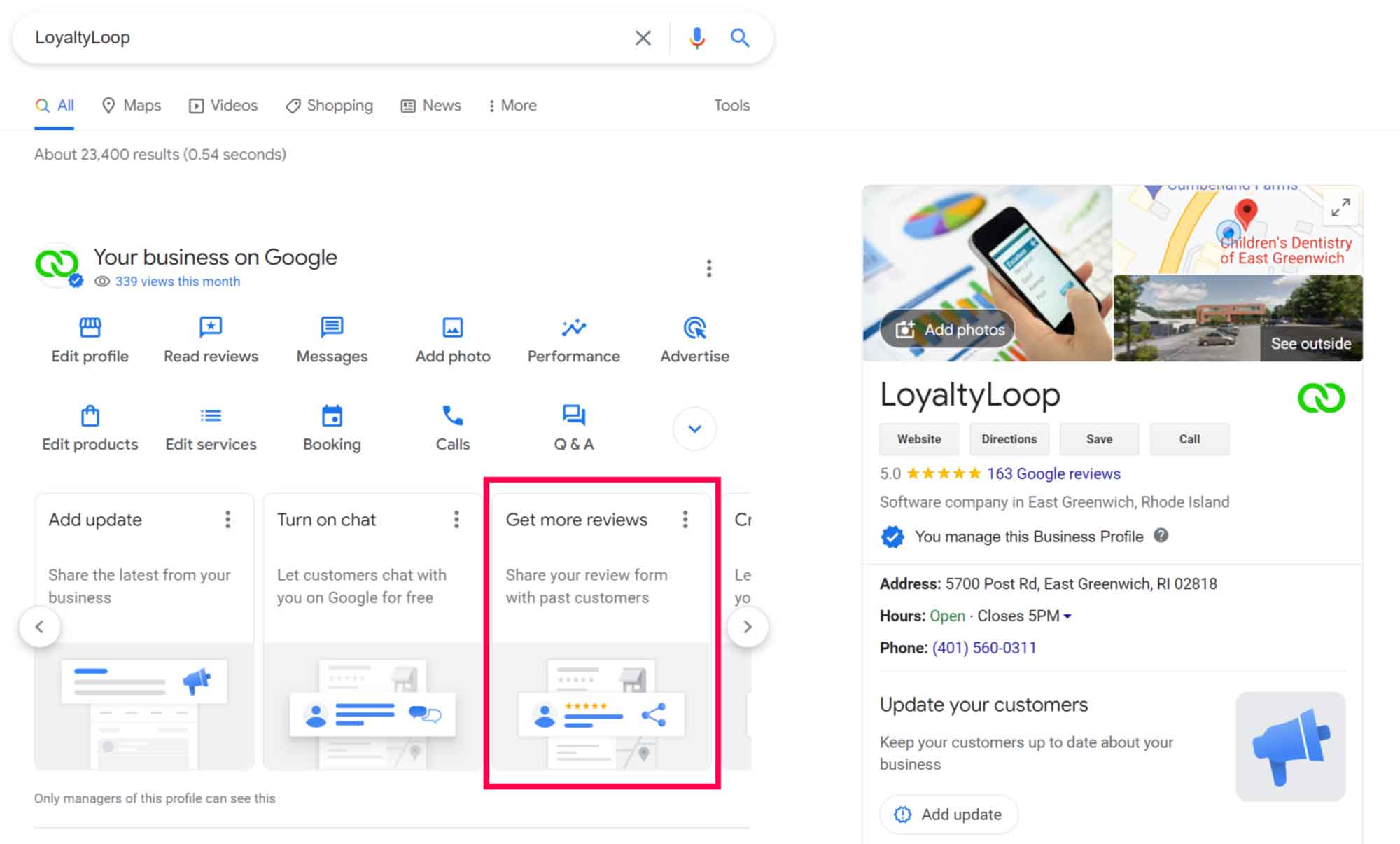 (3) Google will present your Google Review link, which you can copy for use in the next steps.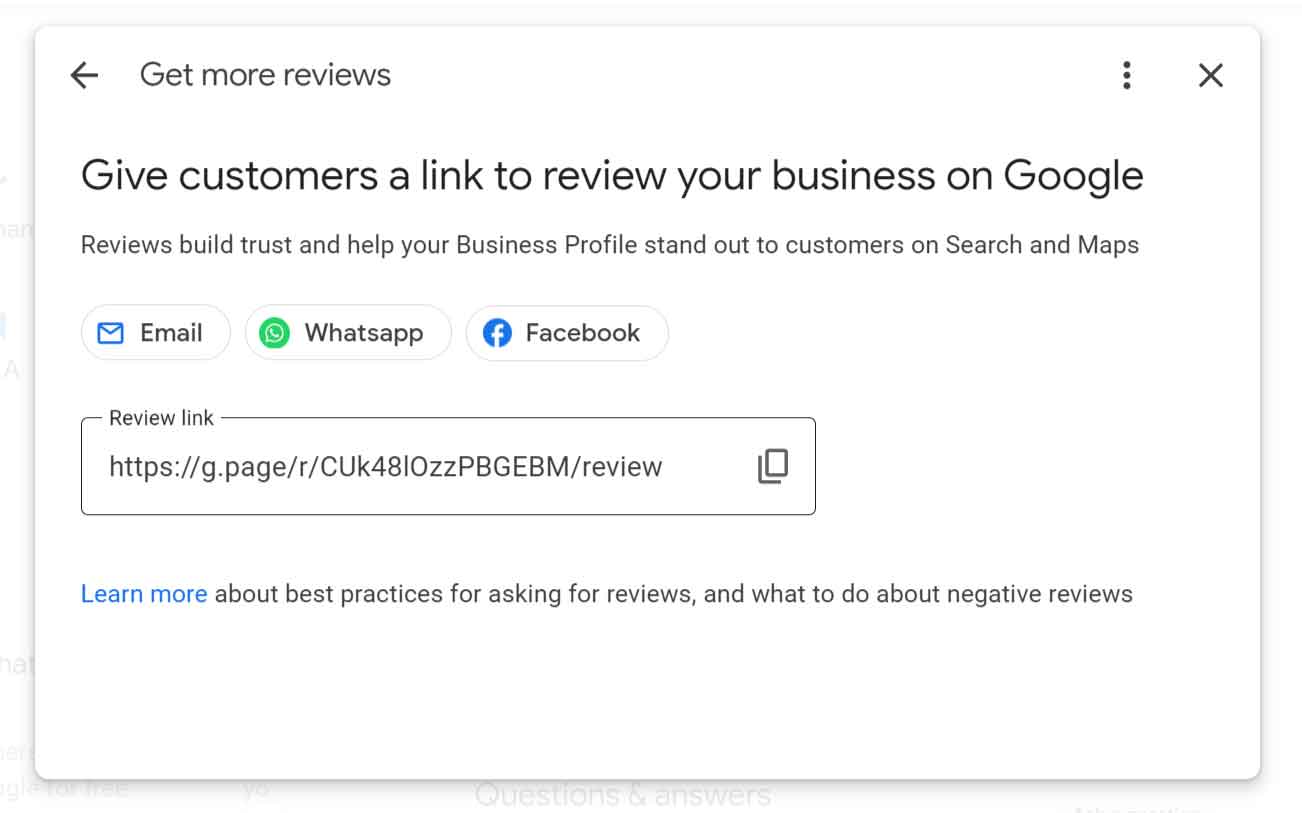 Using your Google Review link to get more reviews
Now that you have your Google Review link, here are 4 suggestions to get more reviews.
1 Add it to your email signature. Add a small bit of text to your email signature that reads, "Review us on Google!", and embed your link in that text. Every email you send will include an opportunity to get another review.
2 Add it your electronic receipts and invoices in a similar manner as adding it to your signature, which will give every purchaser a convenient method of posting a review.
3 Using one of the many free tools available, convert your Google Review URL into a QR code and place it in printed materials and other marketing. Place it on the back of your business cards, and make it a habit of giving it to customers after a purchase.
4 Run a follow-up Campaign in LoyaltyLoop (Promoter plan) to request reviews from customers surveyed in the past. LoyaltyLoop already provides a convenient email template for this, as a compliment to the automated review requests from your survey.
No need to use the Google URL here, it's built in! You simply choose the recipients, the template, adjust the wording if necessary and send. It's that simple. We covered this method in greater detail in our blog post here.
Tip
Did you know you can preview your emails as seen on phones, tablets and computers?
People use various devices to read email, and we want to ensure that all your LoyaltyLoop emails look great on these different devices.
LoyaltyLoop has a feature that allows you to preview how each of your emails will appear when viewed on small screens like phones, medium screens like tablets, and larger screens like computers and laptops. Click the screen icons in any email preview screen, and you'll see how they'll appear.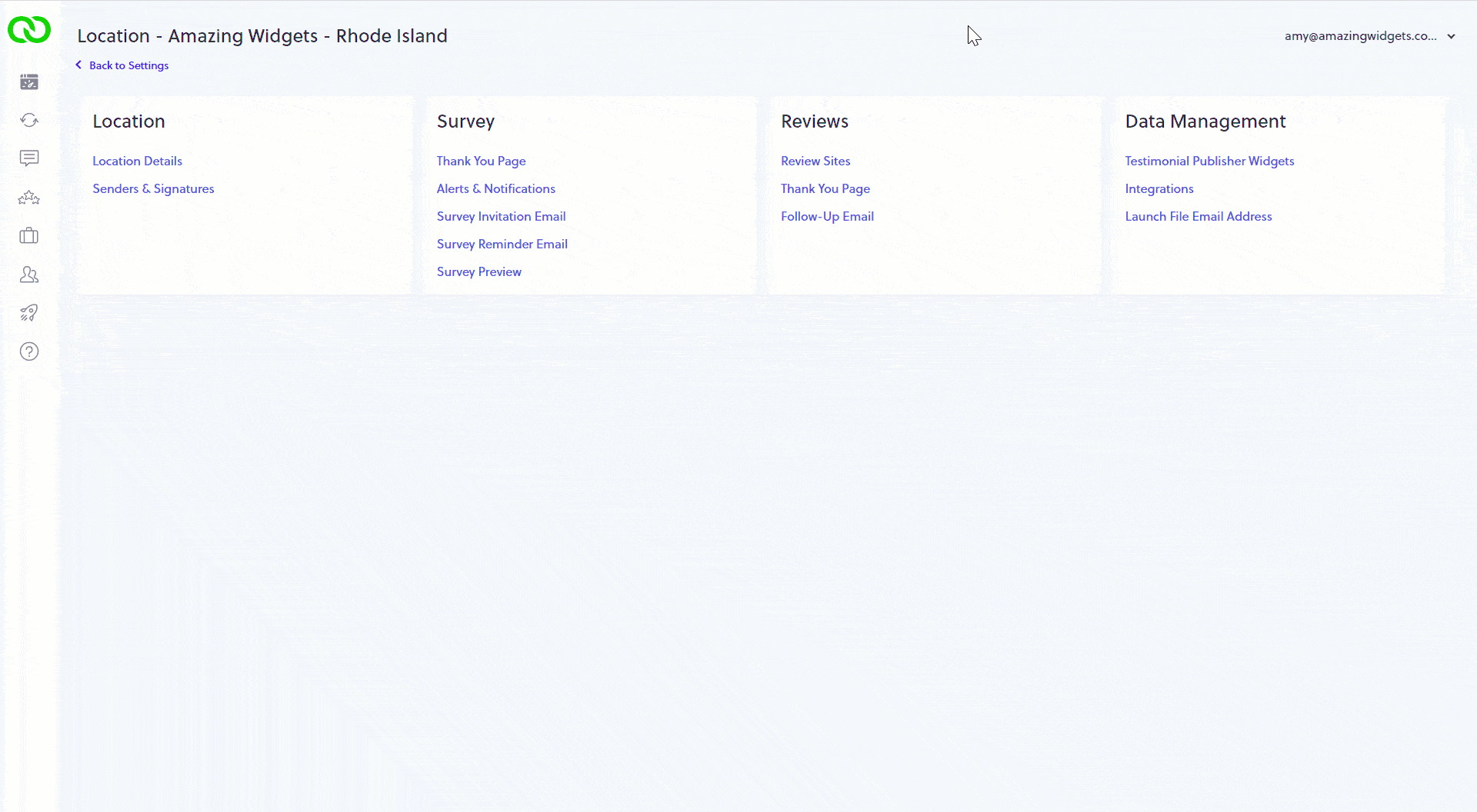 Tip
Did you know you can set the columns to display?
Here's a great feature you may not be aware of. When viewing tables in LoyaltyLoop, you can decide which columns you see. If, for example, your data doesn't include company name, you can hide this column. Just click the column picker icon, and choose the columns you wish to display. Once you set your columns, LoyaltyLoop will remember this when you access the system again.